Saunders 2022-2023 Clinical Judgment and Test-Taking Strategies, 7th Edition
Paperback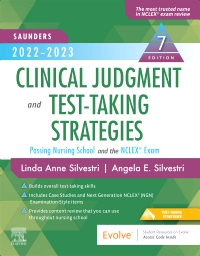 Use proven strategies to prepare for nursing school tests and the NCLEX® exam! Saunders 2022-2023 Clinical Judgment and Test-Taking Strategies: Passing Nursing School and the NCLEX® Exam, 7th Edition provides tools to help you overcome test anxiety, develop study skills, and improve test scores. You'll gain insight into key nursing areas such as clinical judgment, prioritization, leading and managing, communication, and pharmacology. In the book and on the Evolve website, 1,200 practice questions represent all question types — including alternate item formats and new Next Generation NCLEX®-style test items. Written by leading NCLEX experts Linda Anne and Angela Silvestri, this essential resource offers the practical tips and realistic practice you need to succeed on any exam!
Test-taking strategies help students find the correct answer to all types of test questions.
Pyramid Points identify content that is important to know in preparing for the NCLEX® examination.
Fun, full-color design features lots of sample questions, cartoons, and bold designs to help engage visual learners.
1,200 practice questions are included in the book and on the Evolve website, with each illustrating a test-taking strategy and including the correct answer, rationales for correct and incorrect options, a tip for the nursing student, and question codes.
Categorization of questions by beginning, intermediate, or advanced level makes this book a useful tool throughout the nursing program.
UNIQUE! Tip for the Nursing Student is provided with every practice question to help students learn content, develop clinical judgment, and master test-taking skills.
UNIQUE! Student-to-Student Tips highlight real-life strategies that have helped other students successfully complete nursing school and pass the NCLEX® exam.
Practice question categories on Evolve include the level of cognitive ability, client needs, integrated process, clinical judgment/cognitive skill, content area, priority concepts, alternate item formats, and strategy.

NEW! Next Generation NCLEX® (NGN) case studies and practice questions are included on the Evolve website, preparing students for the changes to the NCLEX® exam.

PART I: Study and Test Preparation
1. Preparing for Nursing Examinations
2. Developing Study Skills
3. Reducing Test Anxiety
4. NCLEX® Preparation
PART II: Strategies for Success
5. Alternate Item Formats
6. How to Avoid "Reading into the Question"
7. Positive and Negative Event Queries
8. Questions Requiring Prioritization
9. Leading and Managing, Delegating, and Assignment-Making Questions
10. Communication Questions
11. Pharmacology, Medication, and Intravenous Calculation Questions
12. Additional Pyramid Strategies
PART III: Practice Tests
13. Fundamental Skills Questions
14. Adult Health Questions
15. Mental Health Questions
16. Maternity Questions
17. Child Health Questions
18. Pharmacology Questions
19. Delegating/Prioritizing Questions
20. Leadership/Management Questions
References
Index

Linda Anne Silvestri, PhD, RN, FAAN, Assistant Professor of Nursing, Clinical Coordinator, Nursing Program, Salve Regina University, Newport, Rhode Island; President, Professional Nursing Seminars, Inc., Charlestown, Rhode Island. and Angela Elizabeth Silvestri, PhD, APRN, FNP-BC, CNE, Assistant Professor, Touro University Nevada-School of Nursing, Henderson, Nevada.