CPR and First-Aid Online (Access Card)
Online Course - Access Card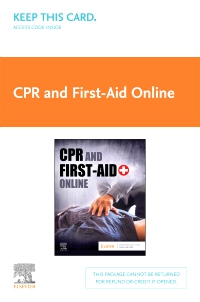 Free Shipping!
Not Yet Available
Coming Soon!
Expected availability date: 05-03-2021
Learn the basics of CPR and first aid with this easy-to-use self-study course! CPR and First Aid Online provides the training you need to react quickly and effectively in life-threatening emergencies. Interactive modules include videos and photos demonstrating essential lifesaving techniques, and case studies let you apply your knowledge to real-world situations. Upon successful completion of the course, you can print out a certificate for your portfolio and to show to potential employers. CPR and First Aid Online makes it quick and convenient to prepare for CPR certification!
Duration for access to this product is for the life of the edition.
Coverage of CPR, AED, and basic first aid includes bleeding, choking, fainting, and bloodborne pathogens.
Detailed information on anatomy and physiology of affected body systems provides the background needed to understand how and why lifesaving techniques work.
Coverage of both adult and pediatric CPR is included.
Interactive case studies challenge students' critical thinking skills to test understanding of concepts presented, and quizzes test students' knowledge.
Videos of lifesaving techniques demonstrate skills and procedures step by step.
Final exam includes critical-thinking questions so that students can prove they understand the procedures presented in the modules.
Printable certificate is presented upon successful completion of the course, with a passing grade on the final exam allowing students to instantly receive proof that they have learned the basics of CPR and first aid.

Modules
1. Introduction to First Aid
2. CPR and Use of an AED
3. First Aid for Choking
4. First Aid for Bleeding
5. First Aid for Other Emergency Situations
Final Exam

Elsevier