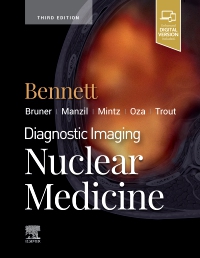 Publication Date:
10-01-2020
Diagnostic Imaging: Nuclear Medicine, 3rd Edition
Hardcover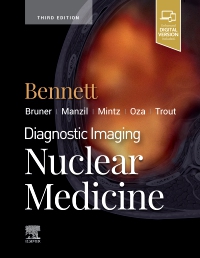 Publication Date:
10-01-2020
Covering the entire spectrum of this fast-changing field, Diagnostic Imaging: Nuclear Medicine, third edition, is an invaluable resource for nuclear medicine physicians, general radiologists, and trainees—anyone who requires an easily accessible, highly visual reference on today's rapidly changing nuclear medicine therapies. Updated throughout, it addresses the most appropriate nuclear medicine options available to answer specific clinical questions within the framework of all imaging modalities, making this edition a useful learning tool as well as a handy reference for daily practice.
Cardiac

Introduction

Approach to Cardiac Imaging

Function and Coronary Artery Disease

Left Ventricular Function

Myocardial Infarction and Ischemia

Myocardial Viability

Right-to-Left Shunt

Cardiomyopathy

Cardiac Sarcoidosis

Cardiac Amyloidosis

Central Nervous System

Introduction

Approach to Central Nervous System Imaging

Cerebrospinal Fluid

CSF Leak Evaluation

CSF Shunt Patency

Normal Pressure Hydrocephalus

Dementia

Alzheimer Disease

Frontotemporal Dementia

Lewy Body Disease

Multi-Infarct Dementia

Infection and Inflammation

Brain Abscess and Encephalitis

Movement Disorders

Parkinsonian Syndromes

Vascular

Brain Death

Cerebrovascular Ischemia

Gastrointestinal

Introduction

Approach to Gastrointestinal Imaging

Hepatobiliary

Acute Cholecystitis and Biliary Obstruction

Biliary Leak

Functional Hepatobiliary Disease

Benign Solid Liver Lesions

Gastrointestinal

Gastrointestinal Bleeding

Gastroparesis

Rapid Gastric Transit

Infection and Inflammation

Abdominal Infection and Inflammatory Disease

Spleen

Spleen Localization

Lymphatic and Vascular

Introduction

Approach to Lymphatic and Vascular Imaging

Lymphatic

Lymphedema

Sentinel Lymph Node Mapping

Vascular

Large Vessel Vasculitis

Vascular Graft Infection

Musculoskeletal

Introduction

Approach to Musculoskeletal Imaging

Bone Tumors

Bone Neoplasms

Metastatic Bone Tumors

Bone Dysplasias

Fibrous Dysplasia

Paget Disease

Bone Mineral Density

Osteopenia and Osteoporosis

Infection and Inflammation

Arthroplasty Complication

Inflammatory Arthritis

Osteomyelitis and Septic Arthritis

Metabolic Disease

Metabolic Bone Disease

Trauma

Heterotopic Ossification

Occult Fracture

Stress and Insufficiency Fracture

Vascular

Avascular Necrosis

Complex Regional Pain Syndrome

Sickle Cell Disease

Thyroid and Parathyroid

Introduction

Approach to Thyroid and Parathyroid Imaging

Thyroid

Graves Disease

Nodular Thyroid Disease

Parathyroid

Parathyroid Adenoma

Thoracic

Introduction

Approach to Thoracic Imaging

Infection and Inflammation

Atypical Infectious Diseases

Granulomatous Disease

Lung Perfusion and Ventilation

Pulmonary Embolism

Quantitative Lung Perfusion

Urinary Tract

Introduction

Approach to Urinary Tract Imaging

Infection and Inflammation

Renal Scar and Pyelonephritis

Renal Function

Hydronephrosis

Vesicoureteral Reflux

Renal Transplant Evaluation

Renovascular Hypertension

GFR Analysis

Pediatrics

Introduction

Approach to Pediatric Imaging

Central Nervous System

Seizure

Thyroid

Congenital Hypothyroidism

Pediatric Salivary Function

Gastrointestinal

Gastric Motility

Meckel Diverticulum

Aspiration

Hepatobiliary

Biliary Atresia

Infection and Inflammation

Fever of Unknown Origin

Osteomyelitis and Septic Joint

Musculoskeletal

Avascular Necrosis

Pediatric Lower Back Pain

Nonaccidental Trauma

Miscellaneous

Nasolacrimal Complex Obstruction

Salivary Gland Scintigraphy

Oncology

Introduction

Approach to Oncologic Imaging

Breast

Benign Breast Conditions

Breast Malignancy

Central Nervous System

Brain Metastases

Post-Radiation CNS Evaluation

Meningioma

Cutaneous

Melanoma

Gastrointestinal Tract

Esophageal Cancer

Gastric Carcinoma and Gastrointestinal Stromal Tumor

Colorectal and Anal Cancer

Head and Neck

Salivary Gland Tumors

Squamous Cell Carcinoma

Hepatobiliary

Hepatocellular Carcinoma

Cholangiocarcinoma and Gallbladder Cancer

Lymphoma

Hodgkin Lymphoma

Non-Hodgkin Lymphoma

Musculoskeletal

Multiple Myeloma

Neuroendocrine

Carcinoid Tumor

Pancreatic Neuroendocrine Tumors

Pheochromocytoma and Paraganglioma

Medullary Thyroid Carcinoma

Pancreas

Pancreatic Adenocarcinoma

Reproductive Organs

Uterine and Endometrial Cancers

Ovarian Cancer

Cervical Cancer

Vulvar and Vaginal Cancer

Prostate Cancer

Testicular Cancer

Thoracic

Malignant Pleural Mesothelioma

Non-Small Cell Lung Cancer

Small Cell Lung Cancer

Thymoma and Thymic Carcinoma

Solitary Pulmonary Nodule

Pulmonary Carcinoid Tumor

Thyroid

Papillary and Follicular Thyroid Cancer

Urinary Tract

Renal Cell Carcinoma

Transitional Cell Carcinoma

Pediatrics

Ewing Sarcoma

Neuroblastoma

Osteosarcoma

Pediatric Somatostatin Receptor Positive Tumors

Nuclear Medicine Therapy

I-131 Thyroid Cancer Therapy

I-131 Hyperthyroid Therapy

Lymphoma Therapy

Hepatic Metastases Therapy

Metastatic Bone Tumor Therapy

Approach to Nuclear Medicine Therapy

Neuroendocrine Tumor Therapy

Prostate Cancer Therapy

Physics

Basic Physics and Radionuclides

Nonimaging Detectors

Gamma Camera Imaging

SPECT

PET

Radiation Biology and Dose

Safety

Medical Use of Byproduct Material

Medical Use of Byproduct Material

General Administrative Requirements

General Technical Requirements

Radioactive Spills

Paige Bennett, MD, Professor of Nuclear Medicine and Molecular Imaging in the Department of Radiology at Wake Forrest School of Medicine, and is a board certified nuclear medicine physician.