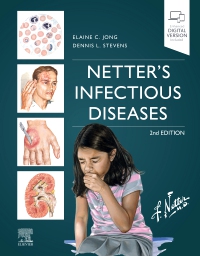 Publication Date:
04-07-2021
Netter's Infectious Diseases - Elsevier E-Book on VitalSource, 2nd Edition
Elsevier eBook on VitalSource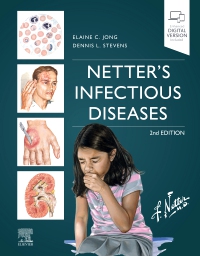 Publication Date:
04-07-2021
Or $0.00 with a valid access code
Widely used by students, residents, generalists, and specialists, Netter's Infectious Diseases, 2nd Edition delivers must-know information on infectious diseases in a highly illustrated, easily accessible format. Concise visual overviews of essential topics provide a convenient, trustworthy way to review the basics of a given infectious disease or issue or to share with patients or staff. Drs. Elaine Jong and Dennis Stevens cover the basics of this complex field using memorable illustrations by world-renowned artist Frank H. Netter and others, offering a time-saving, authoritative look at infectious diseases life cycles, clinical presentations, and pathophysiology.
Contents

SECTION I Vaccine-Preventable Diseases in Children and Adolescents

Introduction to Vaccine-Preventable Diseases in Children and Adolescents

Diphtheria and Tetanus

Bordetella pertussis and Pertussis (Whooping Cough)

Haemophilus influenzae Type b

Pneumococcal Disease: Infections Caused by Streptococcus pneumoniae

Infections Caused by Neisseria meningitidis

Poliomyelitis (Polio) and Polioviruses

Influenza

Rotavirus Infection

Measles

Mumps

Rubella

Varicella-Zoster Virus Infections

Hepatitis A Infection and Prevention

Hepatitis B Infection

Human Papillomavirus Infections and Prevention

SECTION II Skin and Soft-Tissue Infections

Introduction to Skin and Soft-Tissue Infections

Impetigo

Erysipelas and Cellulitis

Folliculitis, Furuncles, and Carbuncles

Life-Threatening Skin and Soft-Tissue Infections

Superficial Dermatophyte Infections of the Skin

Herpes Simplex Virus Infection

Nontuberculous Mycobacterial Skin and Soft-Tissue Infections

SECTION III Respiratory Tract Infections

Introduction to Respiratory Tract Infections

Community-Acquired Pneumonia, Bacterial

Hospital-Acquired Pneumonia

Atypical Pneumonia

Aspiration Pneumonia

Viral Respiratory Infections

Sinus Infections

Acute Otitis Media

Pharyngitis

Acute Exacerbations of Chronic Obstructive Pulmonary Disease

SECTION IV Systemic Infections

Introduction to Systemic Infections

Endocarditis

Meningitis

Osteomyelitis

Urinary Tract Infections

Systemic Fungal Infections

SECTION V Surgical Infections

Surgical Infections: Introduction and Overview

Acute Appendicitis

Acute Ascending Cholangitis and Suppurative Toxic Cholangitis

Acute Diverticulitis

Hydatid Cyst Disease (Echinococcosis)

Intraabdominal Abscess

Liver Abscess: Pyogenic and Amebic Hepatic Abscess

Necrotizing Soft-Tissue Infections

Anorectal Abscess and Fistula in Ano

Peritonitis

Pyomyositis (Pyomyositis Tropicans)

Surgical Site Infections

SECTION VI Sexually Transmitted Infections

Introduction to Sexually Transmitted Infections

Trichomonas vaginalis

Herpes Simplex Virus Genital Infection

Human Immunodeficiency Virus and Acquired Immunodeficiency Syndrome

Human Papillomavirus

Infections Caused by Chlamydia trachomatis, Including Lymphogranuloma Venereum

Infections With Neisseria gonorrhoeae

Syphilis (Treponema pallidum)

Bacterial Vaginosis, Related Syndromes, and Less Common Sexually Transmitted Diseases

SECTION VII Infections Associated With International Travel and Outdoor Activities

Introduction to Infections Associated With International Travel and Outdoor Activities

Malaria

Yellow Fever

Travelers' Diarrhea

Cholera

Enteric Fever: Typhoid and Paratyphoid Fever

Hepatitis A, B, C, D, and E: Focus on Adult Infections

Rabies

Arboviruses of Medical Importance

West Nile Virus Disease

Tick-Borne Encephalitis

Lyme Disease

Leptospirosis

Primary Amebic Meningoencephalitis

SECTION VIII Parasitic Diseases

Introduction to Parasitic Diseases

Amebiasis

Giardia, Cryptosporidium, Cyclospora, and Other Intestinal Protozoa

Soil-Transmitted Helminths and Other Intestinal Roundworms

Intestinal Cestodes (Tapeworms)

Cysticercosis

Food-Borne Trematodes: Liver, Lung, and Intestinal Flukes

Schistosomiasis

Filarial Diseases

Echinococcosis: Cystic and Alveolar Disease

Trichinellosis

Chagas Disease

SECTION IX Emerging Infectious Diseases and Pandemics

Introduction to Emerging Infectious Diseases and Pandemics

Multidrug-Resistant Tuberculosis

Anthrax

Tularemia

Zika Virus Disease and Congenital Zika Virus Infection

Neuroangiostrongyliasis (Rat Lungworm Disease)

Ebola and Other Emerging Viral Hemorrhagic Fevers

Severe Acute Respiratory Syndrome and Coronavirus Disease 2019

Middle East Respiratory Syndrome Coronavirus

Influenza Virus: A Public Health Concern

Elaine C. Jong, MD, FIDSA, FASTMH, Clinical Professor of Medicine Emeritus, Division of Allergy and Infectious Diseases, University of Washington School of Medicine, Seattle, Washington; Founding Director of the UW Travel and Tropical Medicine Service; Founding Director of the UW Campus Health Service and Dennis L. Stevens, MD, PhD, Chief, Infectious Diseases Section, Veterans Affairs Medical Center, Boise, ID Professor of Medicine, University of Washington School of Medicine, Seattle, Washington; Chief, Infectious Diseases Section, Veterans Affairs Medical Center, Boise, Idaho