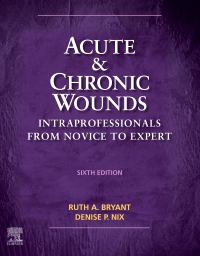 Publication Date:
07-27-2023
Acute and Chronic Wounds - Elsevier eBook on VitalSource, 6th Edition
Elsevier eBook on VitalSource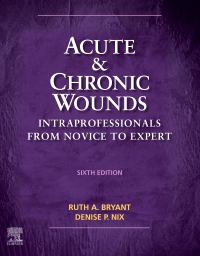 Publication Date:
07-27-2023
Or $0.00 with a valid access code
Acute & Chronic Wounds, 6th Edition provides the latest diagnostic and treatment guidelines to help novice to expert clinicians provide evidence-based, high-quality care for patients with wounds. This textbook presents an interprofessional approach to maintaining skin integrity and managing the numerous types of skin damage, including topics that range from the physiology of wound healing, general principles of wound management, special patient populations, management of percutaneous tubes, and specific care instructions to program development. Written by respected wound experts Ruth Bryant and Denise Nix, this bestselling reference also provides excellent preparation for all wound certification exams.
Comprehensive approach addresses the prevention and management of acute and chronic wounds, making it the preeminent resource for skin health and wound management across all disciplines involved in wound care, from novice to expert.
Learning Objectives at the beginning of each chapter emphasize the most important content.
Clinical Consult feature in each chapter provides a synthesis of the chapter content, illustrating how to assess, manage, and document a realistic clinical encounter using the ADPIE or SBAR framework.
Checklists provide a concise list of actions necessary to achieve the best patient care outcomes or satisfy a particular objective.
Practical tools and algorithms help in performing risk assessment, differential diagnosis, classification, treatment, and documentation.
Coverage of practice development issues addresses outcomes and productivity in agencies and institutions, home care, acute care, long-term care, and long-term acute care settings.
Self-assessment questions help you test your knowledge and prepare for certification exams.
Helpful appendices provide answers to self-assessment questions, as well as various tools, policies and procedures, competencies, patient and family education guidance, and more.

NEW! Chapters on Postacute Care Settings; Telehealth and Wound Management; Quality Tracking Across the Continuum; and Medications and Phytotherapy: Impact on Wounds provide evidence-based coverage of these important topics.
UPDATED! Consolidated pressure injuries content puts everything you need to know into one chapter.
Expanded full-color insert includes 50 new images — for a total of 95 color plates with more than 160 images — that visually reinforce key concepts.
New information presents the latest developments in biofilm assessment and management, topical oxygen therapy, skin manifestations related to COVID-19, and strategies to enhance engagement, as well as updated product photos and more authors who are clinical experts and providers.

SECTION 1: Foundations

1. Principles for Practice Development to Facilitate Outcomes and Productivity 2. Billing, Reimbursement, and Setting Up a Clinic 3. Anatomy and Physiology of Skin and Soft Tissue 4. Wound-Healing Physiology and Factors that Affect the Repair Process 5. Types of Skin Damage and Differential Diagnosis 6. Skin and Wound Inspection and Assessment

SECTION II: Pressure Ulcers 7. Pressure Ulcers: Impact, Etiology, and Classification 8. Developing and Maintaining a Pressure Ulcer Prevention Program 9. Support Surfaces

SECTION III: Lower Extremity Wounds 10. Lower Extremity Assessment 11. Arterial Ulcers 12. Venous Ulcers 13. Lymphedema 14. Neuropathic Wounds: The Diabetic Wound 15. Foot and Nail Care

SECTION IV: Wound Bed Preparation 16. Wound Infection: Diagnosis and Management 17. Wound Debridement 18. Principles of Wound Healing and Topical Management

SECTION IV: Biophysical and Biologic Agents

19. Cellular- and/or Tissue-Based Products for Wounds 20. Molecular and Cellular Regulators 21. Negative Pressure Wound Therapy 22. Hyperbaric Oxygenation 23. Electrical Stimulation 24. Ultraviolet Light and Ultrasound

SECTION VI: Critical Cofactors

25. Wound Pain: Impact and Assessment 26. Managing Wound Pain 27. Nutritional Assessment and Support 28. Perfusion and Oxygenation 29. Eliminating Noncompliance

SECTION VII: Acute and Traumatic Wounds

30. Uncommon Wounds and Manifestations of Intrinsic Disease 31. Traumatic Wounds: Bullets, Blasts, and Vehicle Crashes 32. Burns 33. Reconstructive Surgery 34. Surgical Wounds and Incision Care

SECTION VIII: Special Patient Populations

35. Skin Care Needs of the Obese Patient 36. Skin Care Needs of the Neonatal and Pediatric Patient 37. Managing Wounds in Palliative Care 38. Management of Draining Wounds and Fistulas 39. Percutaneous Tube Management

Appendix A: Tool Examples to Support Skin and Wound Care Appendix B: Self-Assessment Exercises

Ruth Bryant, RN, MS, CWOCN, Partner, Bryant Rolstad Consultants, LLC Program Director, webWOC Nursing Education Program Minneapolis, MN and Denise Nix, RN, MS, CWOCN, President, Nix Consulting Inc.; WOC Nurse Specialist, Park Nicollet Methodist Hospital, Minneapolis MN