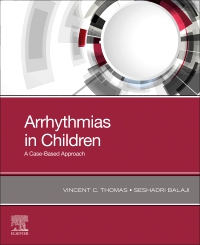 Publication Date:
04-13-2021
Arrhythmias in Children, 1st Edition
Paperback
Publication Date:
04-13-2021
Free Shipping!
This item has low stock levels and may be back-ordered. We'll let you know if it is back-ordered, and you will not be charged until the item ships.
Pediatric arrhythmias present numerous challenges to pediatric cardiologists and other practitioners who see pediatric patients, including pediatricians, family physicians, emergency physicians, residents, fellows, and other clinicians. Arrhythmias in Children: A Case-Based Approach features practical methods for diagnosing and treating arrhythmias in these patients across all settings. Nearly three dozen real-world scenarios are presented, followed by a discussion of the diagnosis, clinical thinking process involved, treatment options, expected outcomes, and how to manage anticipated and unanticipated outcomes. These practical, realistic cases provide a unique and engaging way of approaching these challenging patient scenarios.
Newborn/Infant

Newborn nursery infant that has bradycardia

What am I thinking about?

History and Physical

Differential Diagnosis

Fetus with premature beats

Newborn with complete heart block

Hypothyroidism

Medication-induced

Apnea

Tests to Order

Practical Plan of Action

NICU infant noted to have extrasystoles on cardiac monitor

Full-term infant noted to have persistent tachycardia

2-month-old presenting to the ER with tachycardia, fussy, unable to eat

4-month-old with extrasystoles on auscultation at pediatrician's office

9-month-old with recurrent episodes of supraventricular tachycardia despite medical therapy

Child

2-year-old presents to ER with an episode of "passing out" and "turning blue"

3-year-old is noted by pediatrician to have a low resting heart rate

4-year-old presents to ER with supraventricular tachycardia

7-year-old presents to ER with recurrent SVT

8-year-old presents with ADHD presents to cardiology office with ECG in hand for "cardiac clearance" to start stimulants

10-year-old presents to ER with dizziness and bradycardia with a pacemaker that does not appear to be functioning

11-year-old whose father recently died at the age of 45

5-year-old, asymptomatic, with ECG obtained for physical demonstrating WPW

Pre-teen/Teenager

13-year-old with syncope while standing in line for lunch

15-year-old with intentional ingestion of grandparent's calcium channel blockers

16-year-old with premature ventricular contractions noted during athletic participation physical.

14-year-old cross country runner presents with syncope during a race

15-year-old with syncope while playing soccer

17-year-old with palpitations and dizziness while playing football

14-year-old who had to be pulled from the pool during a swim meet

Special Circumstances

Maternal fetal evaluation reveals fetus with tachycardia

Maternal fetal evaluation reveals fetus with premature beats

A newborn infant with complete heart block noted immediately after birth

A 3-month old child with complete heart block after surgery for AV canal defect

A 4-month old post-operative ventricular septal defect with junctional ectopic tachycardia

A 2-year old child who took an overdose of grandmother's digoxin pills

A 10-year old child with a "pacemaker" who is dizzy and had a syncope episode

An 11-year old child resuscitated from sudden collapse, found to have a long QT on ECG

A 12-year old with hypertrophic cardiomyopathy presents to the emergency room with syncope

A 13-year old with repaired tetralogy of Fallot with frequent PVCs

A 15-year old presents to ER after successful resuscitation with an AED for documented ventricular fibrillation

A 16-year old teen with a defibrillator who received a shock

Vincent C. Thomas, MD, MHA, Pediatric Cardiologist and Electrophysiologist Medical Safety Officer Johnson & Johnson and Balaji Seshadri, MBBS, MRCP (UK), PhD, Professor, Department of Pediatrics Division of Cardiology