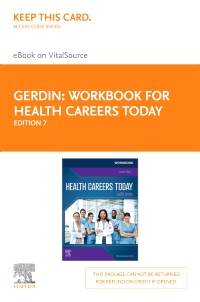 Publication Date:
01-04-2022
Workbook for Health Careers Today Elsevier eBook on VitalSource (Retail Access Card), 7th Edition
Elsevier eBook on VitalSource - Access Card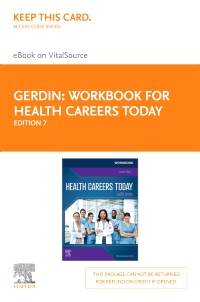 Publication Date:
01-04-2022
Free Shipping!
This item has low stock levels and may be back-ordered. We'll let you know if it is back-ordered, and you will not be charged until the item ships.
Reinforce your understanding of healthcare basics with this practical workbook! Corresponding to the chapters in Gerdin's Health Careers Today, 7th Edition, this workbook includes engaging exercises and activities to help you master healthcare concepts and skills. It also helps you develop critical thinking and internet research skills, and challenges you to apply your knowledge to healthcare settings. This edition adds valuable practice with essay writing and computer skills. Not only will you get more out of the textbook, but you will also prepare more effectively for exams!
Concept Applications cover key information and help in applying knowledge to the real world.
Critical Thinking activities ask you to choose a position and explain the reasons for your choice.
Coloring and labeling exercises help you learn key concepts and understand anatomical structures.
Laboratory exercises offer hands-on activities to hone your lab skills and learn pharmacology.

NEW! Fully revised practice questions reinforce content in the Health Careers Today textbook.
NEW! Career-specific activities invite students to understand the education requirements and earning potential of hundreds of careers in the health professions.
NEW! Understanding the Concepts questions challenge students to build their comprehension of the material.
NEW! Performance Applications labs offer hands-on activities for selected Skill Lists from the textbook.

Unit I: Healthcare Today
1. Healthcare in the United States
2. Healthcare Facilities and Organizations
3. Healthcare Delivery and Patient Workflow
4. Healthcare Workforce
5. Healthcare Law and Ethics
Unit II: Healthcare Fundamentals
6. Medical Terminology and Body Systems
7. Medical Mathematics and Calculations
8. Health Insurance and the Revenue Cycle
9. Healthcare Technology and EHR
10. Basic Accounting and Finance
11. Wellness, Growth, and Development
12. Safety and Health Practices
13. Professionalism and Effective Communication
14. Cultural Competence and Workplace Diversity
15. Employment and Career Development
16. Academic Foundation
Unit III: Healthcare Careers
17. Physicians and Clinical Support Professionals
18. Nursing Professionals
19. Pharmacists and Pharmacy Support Staff
20. Respiratory Care Professionals
21. Surgical Technologists
22. Physical and Occupational Therapy Careers
23. Diagnostic Imaging Careers
24. Phlebotomists and Dialysis Technicians
25. Clinical Laboratory Technicians
26. Biotechnology Research and Development Professionals
27. Speech Language Pathologists and Audiologists
28. Dieticians and Nutritionists
29. Emergency Medical Technicians and Paramedics
30. Health Information Professionals
31. Health Insurance Professionals
32. Dental Professionals
33. Complementary and Alternative Medicine Careers
34. Forensic and Mortuary Science Professionals
35. Social and Mental Health Professionals

Judith Gerdin, BSN, MS, Paradise Valley High School, Phoenix, AZ