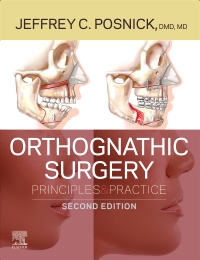 Publication Date:
04-02-2022
Orthognathic Surgery Elsevier eBook on VitalSource, 2nd Edition
Elsevier eBook on VitalSource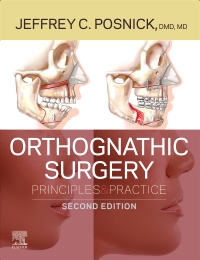 Publication Date:
04-02-2022
Or $0.00 with a valid access code
Find the latest thinking on the evaluation and treatment of dentofacial deformities! Principles and Practice of Orthognathic Surgery, 2nd Edition covers the concepts and skills required to diagnose and correct dentofacial deformities. Featuring thousands of images, this guide addresses planning, surgical techniques, surgical complications, classic growth patterns, and presentations of dentofacial deformity including common malformations, cleft jaw, and post-traumatic deformities, as well as aesthetic considerations. Case studies and step-by-step videos help you apply concepts and achieve real-life solutions. Written by Jeffrey C. Posnick, a noted expert in facial plastic surgery, this valuable reference will take your orthognathic skills to the next level. An enhanced eBook version included with every new print purchase provides access to a complete, fully searchable version of the text, along with videos of procedures, and much more — available on a variety of devices.
More than 8,000 photos and illustrations boost your understanding of key points and surgical techniques.
Logically organized material aids your thinking prior to developing treatment plans and executing surgery.
Current surgical protocols for Oral and Maxillofacial Surgeons and Orthodontics put you at the forefront of the orthognathic surgery field.

NEW! In-depth content revision and clear artwork are added to this edition.
NEW! Virtual Surgical Planning chapter examines how VSP provides a useful tool for planning surgeries prior to entering the operating room.
NEW! 45 videos depict step-by-step approaches to essential orthognathic procedures and techniques.
NEW! Enhanced eBook version included with every new print purchase provides access to a complete, fully searchable version of the text, along with videos of procedures and much more!
NEW! More case studies are included, each demonstrating long-term results.
NEW! Up-to-date review and analysis of research literature is added.

SECTION 1 Basic Principles and Concepts

1 The New Perspectives on the Face (contributed by M. MICHAEL COHEN JR.)

2 Pioneers and Milestones in the Field of Orthodontics and Orthognathic Surgery

3 Definition and Prevalence of Dentofacial Deformities

4 Hereditary, Developmental, and Environmental Influences on the Formation of Dentofacial Deformities

5 Orthodontic Considerations in the Evaluation and Treatment of Dentofacial Deformities

6 Periodontal Considerations in the Evaluation and Treatment of Dentofacial Deformities

7 Psychosocial Considerations in the Evaluation and Treatment of Dentofacial Deformities

8 Speech, Mastication, and Swallowing Considerations in the Evaluation and Treatment of Dentofacial Deformities

9 Temporomandibular Disorders: Effects of Occlusion, Orthodontic Treatment, and Orthognathic Surgery

10 Nasal Airway Considerations in the Evaluation and Treatment of Dentofacial Deformities

11 Anesthesia Techniques, Blood Loss/Fluid Replacement, Airway Management & Convalescence in the Treatment of Dentofacial Deformities

SECTION 2 Planning, Surgical Technique, and Complications

12 Orthognathic Surgery Treatment Planning

13 Standard Analytic Model Planning for Orthognathic Surgery

14 Mandible-First Analytic Model Planning for Orthognathic Surgery

15 Sequencing of Orthognathic Procedures: Step-by-Step Approach

16 Complications Associated with Orthognathic Surgery

17 Malocclusion after Orthodontics and Orthognathic Surgery: Prevention and Treatment Pitfalls

18 Grafts Frequently Used During Orthognathic Surgery and for Adjunctive Procedures

19 Virtual Surgery Planning (NEW CHAPTER)

Jeffrey C. Posnick, D.M.D., M.D., F.R.C.S. (C), F.A.C.S., Professor Emeritus, Plastic and Reconstructive Surgery & Pediatrics
Georgetown University School of Medicine, Washington, DC

Professor of Orthodontics
University of Maryland, Baltimore College of Dental Surgery

Professor of Oral and Maxillofacial Surgery
Howard University College of Dentistry, Washington, DC

Adjunct Professor of Plastic and Reconstructive Surgery
Johns Hopkins School of Medicine, Baltimore, Maryland

Posnick MD Consulting, LLC
Potomac, Maryland