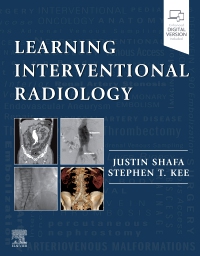 Publication Date:
02-11-2020
Learning Interventional Radiology,Elsevier E-Book on VitalSource, 1st Edition
Elsevier eBook on VitalSource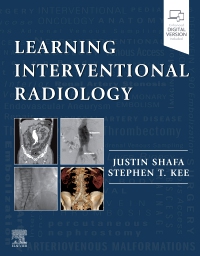 Publication Date:
02-11-2020
Or $0.00 with a valid access code
Now designated as a primary medical specialty, the field of interventional radiology has contributed many ground-breaking procedures, including angioplasty, catheter-delivered stents, aneurysm coiling, and minimally-invasive cancer treatment. This first-of-its-kind review text offers an authoritative, easy-to-use introduction to the field, highlighting procedures, instruments, techniques, modalities, and more. Using an image-filled, practical format it covers exactly what you need to know for a solid foundation in this fast-growing field.
Access to this product, which may be at the discretion of your institution, is up to 3 years of online and perpetual offline access. Elsevier reserves the right to restrict or remove access due to changes in product portfolio or other market conditions.
SECTION A Grand Topics

History of Interventional Radiology

Basics of Interventional Radiology

Imaging Modalities

Anatomy

Neurointerventional Radiology

Interventional Oncology

Surgery

Obstetrics and Gynecology

Pediatrics

Frontiers of Interventional Radiology

SECTION B Vascular Cases

Adrenal Venous Sampling

Arteriovenous Fistulas and Grafts

Arteriovenous Malformations

Balloon-Assisted Retrograde Transvenous Obliteration

Bronchial Artery Embolization

Deep Vein Thrombosis

Endovascular Aneurysm Repair

Foreign Body Retrieval

Inferior Vena Cava Filter

Peripheral Arterial Disease

Pulmonary Embolism

Renal Artery Stenosis

Thrombolysis and Thrombectomy

Transjugular Intrahepatic Portosystemic Shunts

Transjugular Liver Biopsy

Varicose Veins,

Venous Access

Y-90 Embolization

SECTION C Percutaneous Cases

Abscess Drainage

Biliary Drains and Biliary Stenting

CT-Guided Lung Biopsy

Gastrostomy Tube Placement

Lymphangiography and Thoracic Duct Embolization

Paracentesis

Percutaneous Nephrostomy

Thoracentesis

Answer Key to End-of-Chapter Review Questions

Index

Justin Shafa, Radiology Resident, Jacobi Medical Center, Bronx, New York and Stephen T Kee, MD, Professor of Radiology, Chief, Interventional Radiology, UCLA Health Sciences, Los Angeles, California