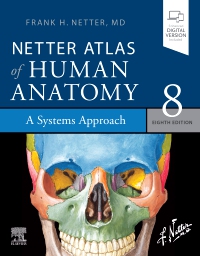 Publication Date:
03-03-2022
Netter Atlas of Human Anatomy: A Systems Approach,Elsevier E-Book on VitalSource, 8th Edition
Elsevier eBook on VitalSource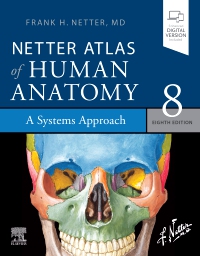 Publication Date:
03-03-2022
Or $0.00 with a valid access code
For students and clinical professionals who are learning anatomy, participating in a dissection lab, sharing anatomy knowledge with patients, or refreshing their anatomy knowledge, the Netter Atlas of Human Anatomy illustrates the body, system by system, in clear, brilliant detail from a clinician's perspective. Unique among anatomy atlases, it contains illustrations that emphasize anatomic relationships that are most important to the clinician in training and practice. Illustrated by clinicians, for clinicians, it contains more than 550 exquisite plates plus dozens of carefully selected radiologic images for common views.
Section 1: Introduction – Orientation, Cells, Tissues, and Organs Overview Section 2: Cardiovascular System Section 3: Respiratory System Section 4: Digestive System and Metabolism Section 5: Immune System Section 6: Endocrine System Section 7: Renal and Urinary System Section 8: Nervous System Section 7: Integumentary System Section 8: Musculoskeletal System Section 7: Reproductive System

Frank H. Netter, MD