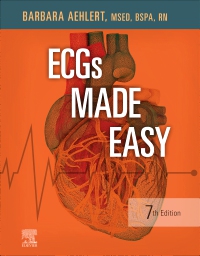 Publication Date:
07-18-2022
ECGs Made Easy, 7th Edition
Paperback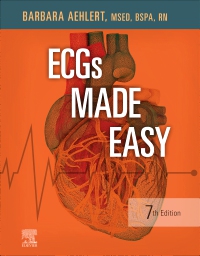 Publication Date:
07-18-2022
Learning ECG interpretation has never been easier! A practical guide to heart rhythm recognition, ECGs Made Easy, 7th Edition offers a more visual, less intimidating way to identify and interpret basic heart dysrhythmias. Each ECG rhythm includes a clear description, a sample ECG rhythm strip, possible signs and symptoms related to each rhythm, and recommended treatment. For more practice, additional rhythm strips and review exercises are provided at the end of each chapter. Written by noted EMS educator Barbara Aehlert, this guide has everything you need to master skills in ECG interpretation.
Easy-to-read style and conversational tone help you to recall and apply ECG information.
Brief description of each dysrhythmia is accompanied by a summary of rhythm characteristics and a sample ECG rhythm strip.
Clear ECG discussions highlight what you need to know about dysrhythmia recognition, such as: How Do I Recognize It? What Causes It? What Do I Do About It?
Introduction to the 12-Lead ECG chapter provides the basics for this advanced skill, including determining electrical axis, and recognizing ECG changes associated with myocardial ischemia and infarction, bundle branch block, and other conditions.
ECG Pearl boxes cover ECG principles, practical applications, indications, and techniques, and offer useful hints for interpreting ECGs.
Drug Pearls highlight select medications used to treat dysrhythmias.
Key terms open each chapter by introducing and defining essential terminology.
Summary tables review the key characteristics of dysrhythmias discussed in the chapter.
Stop & Review exercises at the end of each chapter allow you to assess your understanding.
Comprehensive posttest with answers at the end of the book allows you to check your understanding.

NEW! Content updates reflect current science and clinical practice guidelines, including the American Heart Association's 2020 ECC resuscitation guidelines where applicable.
NEW! Updates to selected rhythm strips allow for additional practice.

1. ANATOMY AND PHYSIOLOGY
2. BASIC ELECTROPHYSIOLOGY
3. SINUS MECHANISMS
4. ATRIAL RHYTHMS
5. JUNCTIONAL RHYTHMS
6. VENTRICULAR RHYTHMS
7. ATRIOVENTRICULAR BLOCKS
8. PACEMAKER RHYTHMS
9. INTRODUCTION TO THE 12-LEAD ECG
10. POSTTEST

Barbara J Aehlert, MSEd, BSPA, RN, Southwest EMS Education, Inc.