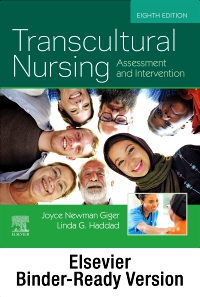 Publication Date:
08-25-2020
Transcultural Nursing - Binder Ready, 8th Edition
Binder Ready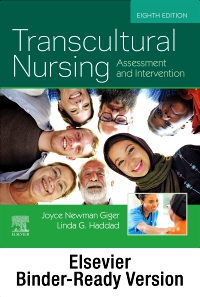 Publication Date:
08-25-2020
Binder-Ready Edition: This loose-leaf copy of the full text is a convenient, accessible, and customizable alternative to the bound book. With this binder-ready edition, students can personalize the text to match their unique needs!
Teach your students to provide quality care for clients from culturally diverse backgrounds! Transcultural Nursing, 8th Edition shows students how to apply assessment and intervention strategies to individuals from a variety of different cultures. Based on Giger and Davidhizer's unique transcultural model, this text helps students understand culturally sensitive care with use of the six key aspects of cultural assessment: communication, time, space, social organization, environmental control, and biologic variations. Transcultural Nursing shows how an understanding of cultural variations and individual patient needs can promote safe and effective care.
UNIQUE! The six key aspects of cultural assessment each receive a full chapter of coverage, allowing you to also apply the Transcultural Assessment Model to cultures not covered in the text.
Case studies and critical decision-making questions help you apply the assessment framework to practice.
23 chapters on specific cultural groups apply this assessment model to the clients most commonly encountered in United States health care settings, with nearly all chapters written by contributors who are part of that ethnic group.
Client care plans in culture-specific chapters show how to apply principles to the needs of individuals.
Review questions reinforce your understanding of cultural principles, with answers found in the back of the book.
Discussions of spirituality throughout the text provide a holistic, integrated approach to culture, beliefs, and assessment.

NEW co-author Dr. Linda Haddad is an internationally recognized cultural scholar who has taught nursing around the globe, has acted as an advisor and coordinator for the World Health Organization, and has published over 30 scholarly articles on nursing with a focus on understanding the cultural implication to care.
UPDATED! Cultural chapters are completely revised to reflect the shifting experiences of cultural groups in our society.

PART ONE: FRAMEWORK FOR CULTURAL ASSESSMENT
1. Introduction to Transcultural Nursing
2. Communication
3. Space
4. Social Organization
5. Time
6. Environmental Control
7. Biological Variations
PART TWO: APPLICATION OF ASSESSMENT AND INTERVENTION TECHNIQUES TO SPECIFIC CULTURAL GROUPS
8. African Americans
9. Mexican Americans
10. Navajos (Diné)
11. Appalachians
12. American Eskimos: Th Yup'ik and Inupiat
13. Japanese Americans
14. Afghans and Afghan Americans
15. Russian Americans
16. Chinese Americans
17. Filipino Americans
18. Vietnamese Americans
19. East Indian Hindu Americans
20. Haitian Americans
21. Jewish Americans
22. Korean Americans
23. French Canadians of Quebec Origin
24. Puerto Ricans
25. Nigerian Americans
26. Ugandan Americans
27. Jordanian Americans
28. Cuban Americans
29. Amish Americans
30. Irish Americans
Appendix A: Answer Key for Review Questions
Index

Joyce Newman Giger, EdD, RN, APRN, BC, FAAN, Professor Emerita,School of Nursing,University of California at Los Angeles,Los Angeles, California and Linda Haddad