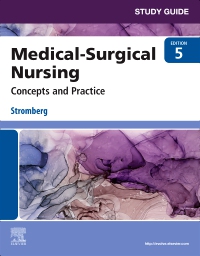 Publication Date:
02-18-2022
Study Guide for Medical-Surgical Nursing - Elsevier eBook on Vitalsource, 5th Edition
Elsevier eBook on VitalSource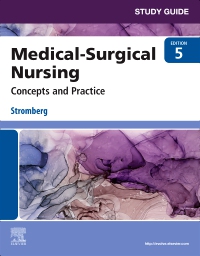 Publication Date:
02-18-2022
Or $0.00 with a valid access code
Reinforce your understanding of medical-surgical nursing — and prepare for the Next Generation NCLEX-PN® (NGN) exam! With chapters corresponding to the chapters in Stromberg's Medical-Surgical Nursing, 5th Edition, this study guide provides a variety of exercises to help you master the role of the LPN/LVN. Review questions help you understand terms and apply concepts to patient care settings, and realistic activities provide practice with critical thinking and clinical judgment skills. Now with new NGN-style practice questions and case studies, this practical study tool will boost your readiness for the NCLEX-PN® exam.
Variety of exercises, questions, and activities includes terminology, short answer, priority setting, critical thinking activities, application of the nursing process, and NCLEX-PN review.
Steps Toward Better Communication sections offer practice with pronunciation, vocabulary building, proper usage of grammar, and relating to cultural differences.
Additional interactive exercises and activities are provided on the Evolve website for the textbook.

NEW! Next Generation NCLEX®-format questions help you review and practice for the new licensure examination.
NEW! Case studies in the clinical chapters allow you to practice and develop clinical judgment.

**includes NGN-style case studies/questions

Unit I: Medical-Surgical Nursing Settings

1. Caring for Medical-Surgical Patients

2. Critical Thinking and the Nursing Process

Unit II: Medical-Surgical Patient Care Problems

**3. Fluid, Electrolytes, Acid-Base Balance, and Intravenous Therapy

**4. Care of Preoperative and Intraoperative Surgical Patients

**5. Care of Postoperative Surgical Patients

**6. Infection Prevention and Control

**7. Care of Patients with Pain

**8. Care of Patients with Cancer

**9. Chronic Illness and Rehabilitation

Unit III: Immune System

10. The Immune and Lymphatic Systems

**11. Care of Patients with Immune and Lymphatic Disorders

Unit IV: Respiratory System

12. The Respiratory System

**13. Care of Patients with Disorders of the Upper Respiratory System

**14. Care of Patients with Disorders of the Lower Respiratory System

Unit V: Hematologic System

15. The Hematologic System

**16. Care of Patients with Hematologic Disorders

Unit VI: Cardiovascular System

17. The Cardiovascular System

**18. Care of Patients with Hypertension and Peripheral Vascular Disease

**19. Care of Patients with Cardiac Disorders

**20. Care of Patients with Coronary Artery Disease and Cardiac Surgery

Unit VII: Neurologic System

21. The Neurologic System

**22. Care of Patients with Head and Spinal Cord Injuries

**23. Care of Patients with Brain Disorders

**24. Care of Patients with Peripheral Nerve and Degenerative Neurologic Disorders

Unit VIII: Sensory System

**25. The Sensory System: Eye

**26. The Sensory System: Ear

Unit IX: Gastrointestinal System

27. The Gastrointestinal System

**28. Care of Patients with Disorders of the Upper Gastrointestinal System

**29. Care of Patients with Disorders of the Lower Gastrointestinal System

**30. Care of Patients with Disorders of the Gallbladder, Liver, and Pancreas

Unit X: Musculoskeletal System

31. The Musculoskeletal System

**32. Care of Patients with Musculoskeletal and Connective Tissue Disorders

Unit XI: Urinary System

33. The Urinary System

**34. Care of Patients with Disorders of the Urinary System

Unit XII: Endocrine System

35. The Endocrine System

**36. Care of Patients with Pituitary, Thyroid, Parathyroid, and Adrenal Disorders

**37. Care of Patients with Diabetes and Hypoglycemia

Unit XIII: Reproductive System

38. Normal Male and Female Reproductive System Findings

**39. Care of Women with Reproductive Disorders

**40. Care of Men with Reproductive Disorders

**41. Care of Patients with Sexually Transmitted Infections

Unit XIV: Integumentary System

42. The Integumentary System

**43. Care of Patents with Integumentary Disorders and Burns

Unit XV: Emergency and Disaster Management

**44. Care of Patients in Disasters or Bioterrorism Attack

**45. Care of Patients with Emergent Conditions, Trauma, and Shock

Unit XVI: Mental Health Nursing of the Adult

**46. Care of Patients with Cognitive Function Disorders

**47. Care of Patients with Anxiety, Mood, and Eating Disorders

**48. Care of Patients with Substance-Related and Addictive Disorders

**49. Care of Patients with Psychotic and Personality Disorders

Appendix A: Most Common Laboratory Test Values

Appendix B: Standard Precautions

Appendix C: Standard Steps for All Nursing Procedures

Holly Stromberg, RN, BSN, MSN, PHN, Alumnus CCRN, Professor Emeritus of Nursing, Allan Hancock College, Clinical Educator, Marian Regional Medical Center, Santa Maria, California and Carol Dallred