Mental Health and the COVID-19 Pandemic
Paperback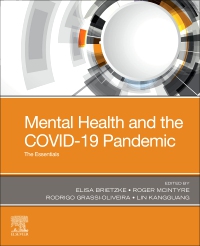 Free Shipping!
Not Yet Available
Coming Soon!
Expected availability date: 08-10-2021
Beginning in late 2019, the COVID-19 pandemic caught the world unprepared, and efforts were quickly directed to reduce the number of deaths from the novel coronavirus. Even as work continues on the medical front, mitigation of related mental health issues will likely be a global priority for the next 5 to 10 years. Mental Health and the COVID-19 Pandemic: The Essentials is a unique, much-needed resource for mental health professionals and clincians who are or will be seeing patients with pandemic-related issues.
Introduction
2. Impact of the COVID-19 in Mental Health: Stress and Trauma
3. COVID-19- Related Mental Health Issues: Anxiety, Depression and Sleep Disturbances
4. The COVID-19 Outbreak, Suicidality and Prevention
5. COVID-19, Telemedicine and Online Psychotherapy
6. Impact of COVID-19 on Mental Health of Essential Workers
7. COVID-19, Social Media, and Mental Health
8. Mental Health of Special Populations during the COVID-19
9. Transcultural Aspects of Mental Health during the COVID-19 Pandemic
10. Repercussions of COVID-19 Socio-Economic Crisis in Mental Health
11. The COVID-19 Outbreak and Mental Health System Organization
12. Mental Health Pos-COVID-19: Challenges and Future Developments

Elisa M Brietzke, MD, PhD, Professor, Department of Psychiatry, Queen's University School of Medicine; Attending Psychiatrist, Inpatient Unit, Kingston Health Sciences Centre; Attending Psychiatrist, Mood Disorders Research and Treatment Unit, Providence Care Hospital, Kingston, ON, Canada, Roger S. McIntyre, MD, Head of the Mood Disorders Psychopharmacology Unit at the University Health Network and Full Professor at the Department of Psychiatry and Department of Pharmacology of the University of Toronto, ON, Canada, Rodrigo Grassi-Oliveira, MD, PhD, Associate professor at the Department of Psychiatry and member of the Brain Institute at Pontificia Universidade Catolica do Rio Grande do Sul, Porto Alegre, Brazil and Lin Kangguang, MD, Deputy Director of The Department of Affective Disorders, the Affiliated Brain Hospital Guangzhou Medical University, Guangzhou, China.