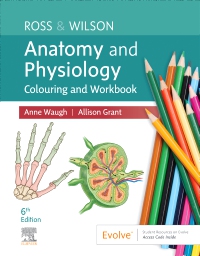 Publication Date:
01-20-2023
Ross & Wilson Anatomy and Physiology Colouring and Workbook, 6th Edition
Paperback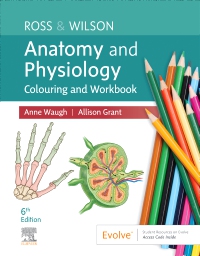 Publication Date:
01-20-2023
This workbook aims to help students build their confidence and consolidate their studies in anatomy and physiology.
Fully updated in its sixth edition, the workbook provides full-page colouring exercises for every system of the body, designed to help the reader to test their memory and reinforce their knowledge. Students can label diagrams, answer multiple choice questions and complete a range of exercises that will leave them with a more in-depth understanding of core anatomy and physiology concepts.
This is a perfect revision tool for students of nursing and allied health, paramedical science, operating department practice, complementary therapy and massage therapy, as well as trainee healthcare assistants. It is a valuable companion to the 14th edition of Ross & Wilson Anatomy and Physiology in Health and Illness but can also be used in conjunction with any other anatomy and physiology text.
Appealing, interactive and engaging way to learn anatomy and physiology

Straightforward language and user-friendly approach to help students of all levels master difficult concepts with ease

Wide range of exercises suit different learning styles

Bespoke website with a unique online colouring and self-test software program – The Body Spectrum© and other interactive activities including case studies to support and reinforce learning

New layout and additional space for students to make their own notes and construct a personalised revision summary

1 Anatomy and organisation of the body
2 Physiological chemistry and processes
3 Cells and tissues
4 The blood
5 The cardiovascular system
6 The lymphatic system
7 The nervous system
8 The special senses
9 The endocrine system
10 The respiratory system
11 Introduction to nutrition
12 The digestive system
13 The urinary system
14 The skin
15 Resistance and immunity
16 The musculoskeletal system
17 Introduction to genetics
18 The reproductive systems
Answers

Anne Waugh, MSc CertEd SRN RNT FHEA, School of Acute and Continuing care Nursing, Napier University, Edinburgh, UK and Allison Grant, BSc PhD RGN, Department of Biological and Biomedical Sciences, Glasgow Caledonian University, Glasgow, UK