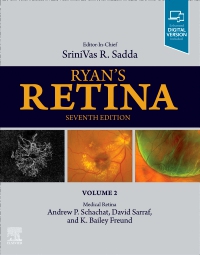 Publication Date:
07-07-2022
PART - Ryan's Retina Volume 2, 7th Edition
Hardcover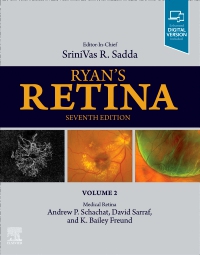 Publication Date:
07-07-2022
Free Shipping!
This item has low stock levels and may be back-ordered. We'll let you know if it is back-ordered, and you will not be charged until the item ships.
Through six outstanding and award-winning editions, Ryan's Retina has offered unsurpassed coverage of this complex subspecialty—everything from basic science through the latest research, therapeutics, technology, and surgical techniques. The fully revised 7th Edition, edited by Drs. SriniVas R. Sadda, Andrew P. Schachat, Charles P. Wilkinson, David R. Hinton, Peter Wiedemann, K. Bailey Freund, and David Sarraf, continues the tradition of excellence, balancing the latest scientific research and clinical correlations and covering everything you need to know on retinal diagnosis, treatment, development, structure, function, and pathophysiology. More than 300 global contributors share their knowledge and expertise to create the most comprehensive reference available on retina today.
SriniVas R. Sadda, MD, President & Chief Scientific Officer, Doheney Eye Institute, Los Angeles, CA, Andrew P. Schachat, MD, Vice Chairman, Cole Eye Institute, Cleveland Clinic Foundation, Cleveland, OH, USA, Charles P. Wilkinson, MD, Chairman, Department of Ophthalmology, Greater Baltimore Medical Center; Professor, Department of Ophthalmology, John Hopkins University, Baltimore, MD, USA, David R. Hinton, MD, Gavin S. Herbert Professor of Retinal Research; Professor of Pathology and Ophthalmology, Department of Ophthalmology, Keck School of Medicine, University of Southern California, Los Angeles, CA, USA, Peter Wiedemann, MD, Head of the Department of Ophthalmology and Eye Hospital, Medical Faculty, University of Leipzig, Leipzig, Germany, K. Bailey Freund, MD, Clinical Professor of Ophthalmology, New York University School of Medicine; Vitreous Retina Macula Consultants of New York, New York City, NY and David Sarraf, MD, Clinical Professor of Ophthalmology, Stein Eye Institute