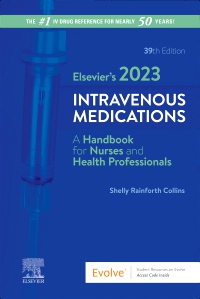 Publication Date:
05-18-2022
Elsevier's 2023 Intravenous Medications - Elsevier E-Book on VitalSource, 39th Edition
Elsevier eBook on VitalSource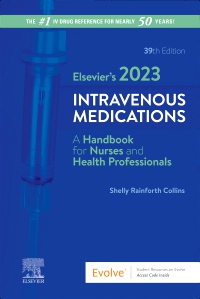 Publication Date:
05-18-2022
Or $0.00 with a valid access code
Find the essential information you need to safely administer more than 400 intravenous drugs! For nearly 50 years, Elsevier's Intravenous Medications: A Handbook for Nurses and Health Professionals has been a trusted resource for complete, accurate drug information in a concise, quick-access format. New to the 2023 edition are 10 monographs of the most recent IV drugs to be approved by the FDA, in addition to updated drug uses, interactions, precautions, alerts, and patient teaching instructions for all current IV drugs. Known as the #1 IV drug handbook on the market, this annual publication is ideal for use in critical care areas, at the nursing station, in the office, and in public health and home care settings.
Detailed monographs on more than 400 IV drugs provide an impressive breadth of coverage that goes well beyond any comparable drug reference.
Individual monographs include the drug name, phonetic pronunciation, usual dose, dilution, compatibility, rate of administration, actions, indications and uses, contraindications, precautions, interactions, side effects, antidote, and more.
Additional drug monographs are provided on the Evolve website.
Highlighted Black Box Warnings make it easy to locate information on medications with serious safety risks.
Blue-screened text calls attention to special circumstances not covered by Black Box Warnings.
Dosage and dilution charts within monographs provide quick summaries of essential clinical information.
Life-stage dosage variances are highlighted for geriatric, pediatric, infant, and neonatal patients.
Convenient, A-to-Z format organizes all drug monographs by generic name, allowing students to find any drug in seconds.
Spiral binding allows the book to lie flat, leaving the practitioner's hands free to perform other tasks.

NEW! Drug monographs for 10 newly approved drugs by the FDA include the most current information.
NEW! Updates on drug uses, interactions, precautions, alerts, and more are included throughout the guide to reflect changes to existing medications.

Evolve website information, inside front cover
General Dilution Charts
How to Use This Book
Preface
Format and Content of Intravenous Medications
Key to Abbreviations
Important IV Therapy Facts
Resources
IV Drugs
Appendix A
Recommendations for the Safe Use and Handling of Cytotoxic Drugs
Appendix B
FDA Pregnancy Categories
Appendix C
U.S. Department of Health and Human Services, National Institutes of Health, National
Cancer Institute Common Terminology Criteria for Adverse Events (CTCAE)
Appendix D
Information for Patients Receiving Immunosuppressive Agents
Appendix E
Recently Approved Drugs
Index
Solution Compatibility Chart, last page and inside back cover
Selected Agents Not Included in the Book, Evolve website
Ado-trastuzumab
Agalsidase Beta
Alfentanil Hydrochloride
Alglucerase
Alglucosidase Alfa
Alpha1-Proteinase Inhibitor (Human)
Amifostine
Ammonium Chloride
Amobarbital Sodium
Anthrax Immune Globulin Intravenous
(Human)
Antivenin (Latrodectus mactans)
Antivenin (Micrurus fulvius)
Antivenin Crotalidae Polyvalent Immune
Fab (Ovine)
Arginine Hydrochloride
Ascorbic Acid
Asparaginase Erwinia chrysanthemi
Atracurium Besylate
Axicabtagene Ciloleucel
Azathioprine Sodium
Blinatumomab
Botulism Immune Globulin (Intravenous
Human)
Brentuximab
Busulfan
CONTENTS xv
Caffeine and Sodium Benzoate
Capreomycin
Carfilzomib
Centruroides (Scorpion) Immune F(ab')2
(Equine) Injection
Chloramphenicol Sodium Succinate
Conjugated Estrogens
Copanlisib
Corticorelin Ovine Triflutate
Crizanlizumab-tmca
Crotalidae Immune F(ab9)2 (Equine)
Dactinomycin
Daratumumab
Deferoxamine Mesylate
Defibrotide
Denileukin Diftitox
Dextran 1
Diazoxide
Dimenhydrinate
Diphtheria Antitoxin
Dolasetron Mesylate
Doxapram Hydrochloride
Droperidol
Edetate Calcium Disodium
Edetate Disodium
Elosulfase Alfa
Elotuzumab
Enfortumab Vedotin-ejfv
Ethacrynic Acid
Fam-Trastuzumab Deruxtecan-nxki
Fospropofol Disodium
Gallium Nitrate
Galsulfase
6% Hydroxyethyl Starch 130/0.4 in NS
Idursulfase
Imiglucerase/Velaglucerase Alfa
Inamrinone Lactate
Inotuzumab Ozogamicin
Interferon Alfa-2b, Recombinant
Ipilimumab
Kanamycin Sulfate
Laronidase
Levocarnitine
Lincomycin Hydrochloride
Liothyronine Sodium
Mechlorethamine Hydrochloride
Meperidine Hydrochloride
Methadone
Methoxy Polyethylene Glycol-Epoetin Beta
Methylene Blue
Minocycline Hydrochloride
Mogamulizumab-kpkc
Obiltoxaximab
Orphenadrine Citrate
Oxacillin Sodium
Pancuronium Bromide
Pegaspargase
Pentazocine (Lactate)
Pentetate Calcium Trisodium/Pentetate
Zinc Trisodium
Phentolamine Mesylate
Piperacillin Sodium
Plasma Protein Fraction
Pooled Plasma (Human)
Pralidoxime Chloride
Protein (Amino Acid) Products
Protein C Concentrate (Human)
Pyridostigmine Bromide
Pyridoxine (Vitamin B6)
Quinidine Gluconate Injection
Raxibacumab
Regadenoson
Remifentanil Hydrochloride
Rocuronium Bromide
Sebelipase Alfa
Secretin
Sermorelin Acetate
Siltuximab
Sincalide
Sipuleucel-T
Sodium Lactate
Sodium Nitrite and Sodium Thiosulfate
Sodium Phenylacetate and Sodium
Benzoate
Streptokinase
Streptomycin Sulfate
Streptozocin
Succinylcholine Chloride
Taliglucerase Alfa
Theophylline in D5W
Ticarcillin Disodium and Clavulanate
Potassium
Tisagenlecleucel
Trabectedin
Trace Metals
Treprostinil
Vaccinia Immune Globulin Intravenous
(Human)
Verteporfin
Vestronidase Alfa-vjbk Injection
Ziv-Aflibercept

Shelly Rainforth Collins, PharmD, Clinical Pharmacy Specialist and Coordinator of Clinical Pharmacy Services, Chesapeake Regional Medical Center; President, Drug Information Consultants, Chesapeake, Virginia