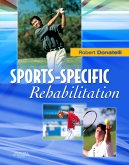 Imprint:
Churchill Livingstone
Sports-Specific Rehabilitation
,
Paperback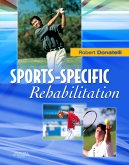 Imprint:
Churchill Livingstone
Free Shipping!
In Stock
This item has low stock levels and may be back-ordered. We'll let you know if it is back-ordered, and you will not be charged until the item ships.
A comprehensive resource for focusing on returning injured athletes to their optimal performance! This book discusses exercise principles; muscle fatigue, muscle damage, and overtraining concepts; pathophysiology of overuse injuries; core evaluation in sports-specific testing; physiological basis of exercise specific to sport; and special considerations for the athlete. Secial features such as evidence-based clinical application boxes provide the reader with a solid body of research upon which to base their practice.
Aligned to the Guide to Physical Therapy Practice to help learn how to work with athletes' injuries and help them make a physical comeback while following best practices.
Incorporation of muscle physiology demonstrates it as the basis for athlete's exercise prescription.
Coverage of pathophysiology of overuse injuries illustrates the damage to the musculoskeletal system.
Inclusion of treatment and training approaches for athletic rehabilitation shows how to restore the musculoskeletal system back to full flexibility, strength, power, and endurance.
Evidence-based clinical application boxes found throughout the book cite key studies and provide real-world application to a clinical setting.
Extensive photographs show hands-on demonstrations of important rehabilitation techniques, helping the cinician to accurately apply them during treatment.

Section 1: Basic Science of Soft Tissues

Chapter 1: Basic Science of Ligaments and Tendons Related to Rehabilitation

Section 2: Muscle Physiology: The Foundation for Exercise Prescription

Chapter 2: Understanding Muscle Contraction

Chapter 3: Anaerobic Metabolism During Exercise

Chapter 4: Aerobic Metabolism During Exercise

Section 3: Muscle Fatigue, Muscle Damage, and Overtraining Concepts

Chapter 5: Muscle Fatigue

Chapter 6: Muscle Damage

Chapter 7: Physiological Effects of Overtraining and Detraining

Section 4: Pathophysiology of Overuse Injury in the Athlete

Chapter 8: Pathophysiology of Injury to the Overhead Throwing Athlete

Chapter 9: The Anatomy of the Core—Muscle Imbalance Pathophysiology

Chapter 10: From the Core to the Floor—Overuse Injury

Section 5: Core Evaluation: Sports-Specific Testing

Chapter 11: Evaluation of Glenohumeral Joint in Overhead Throwing Athlete

Chapter 12: How to Evaluate the Core

Section 6: Physiological Basis of Exercise Specific to Sport

Chapter 13: Strength Training Concepts in the Athlete

Chapter 14: Plyometrics

Chapter 15: Neuromuscular Training

Chapter 16: Manual Therapy: Mobilization, Manipulation of the Spine and Extremeties

Section 7: Special Considerations for the Athlete

Chapter 17: Nutrition for the Athlete

Appendix A: Pathophysiology of the Shoulder, Hip, Knee, and Foot and Ankle Overuse Injuries

Appendix B: Surgical Considerations for the Athlete

Glossary

Robert A. Donatelli, PhD, PT, OCS, National Director, Sports Specific Rehabilitation; Developer, Strengthen Your Game Rehabilitation and Performance Enhancement Programs for Athletes, Las Vegas, NV