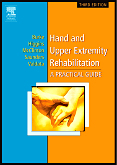 Imprint:
Churchill Livingstone
Hand and Upper Extremity Rehabilitation
,3rd Edition
Paperback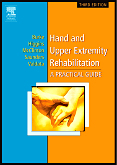 Imprint:
Churchill Livingstone
Free Shipping!
In Stock
This item has low stock levels and may be back-ordered. We'll let you know if it is back-ordered, and you will not be charged until the item ships.
This practical resource blends the technical and clinical skills and knowledge of hand surgery and hand therapy for the treatment of common medical conditions affecting the upper extremity. Written in an outline format, it covers non-surgical and surgical procedures for these conditions, along with their purpose and rationale. The new edition addresses not only the hand, but also features expanded coverage of the wrist, elbow, and shoulder. Both conservative and postoperative rehabilitation are reviewed, and potential postoperative complications are addressed.
Each chapter is written by a hand therapist, and the operative content within each chapter is contributed by a hand surgeon, reflecting the collaborative nature of current practice.
The editorial board consists of three hand therapists and two hand surgeons.
Chapters follow a templated, outline format that enables readers to quickly access information about therapeutic approaches for diagnoses in the clinical setting.

Expanded content provides the most current information for effective practice, covering topics such as scar management, radial nerve compression, tendon transfers for ulnar nerve palsy, brachial plexus injuries, complex extensor tendon injuries, extensor tendon tenolysis, and shoulder instabilities.
New easy-to-use organization divides chapters into 8 parts - Wound Management, Nerve Injuries, Tendon Injuries, Shoulder, Elbow, Wrist and Distal Radial Ulnar Joint, Hand, and Special Topics - so information can be located quickly.
New chapters offer expanded coverage of the wrist, elbow, and shoulder, with discussions of radial nerve compression, brachial plexus injuries, shoulder instabilities, elbow arthroscopy, wrist arthroscopy, carpal fractures and instabilities, TFCC injuries, and wrist arthroplasty.
Over 400 new line drawings and clinical photographs delineate important concepts described in text.
51 leading experts offer fresh insight and authoritative guidance on therapeutic approaches for many common diagnoses.
Clinical outcomes now included in each chapter relate clinical expectations to the results of clinical research trials, providing the therapist with the expected range of motion and function based on evidence in the literature.
Reference lists and suggested readings have been updated to include the most current, relevant references.

Part 1. Wound Management
1. Wound Care
2. Skin Grafts and Flaps
3. Burns
4. Scar Management

Part 2. Nerve Injuries and Compression
5. Sensibility Testing
6. Median Nerve Compression
7. Ulnar Nerve Compression
8. Radial Nerve Compression
9. Thoracic Outlet Syndrome
10. Nerve Repair
11. Desensitization and Reeducation
12. Tendon Transfers for Median Nerve Palsy
13. Tendon Transfers for Ulnar Nerve Palsy
14. Tendon Transfers for Radial Nerve Palsy
15. Brachial Plexus Injuries
16. Complex Regional Pain Syndrome

Part 3. Tendon Injuries
17. Flexor Tendon Repair
18. Flexor Tendon Reconstruction
19. Flexor Tenolysis
20. Management of Extensor Tendon Repairs
21. Extensor Tendon Imbalance (Mallet, Swan Neck, Boutonniere)
22. Extensor Tenolysis
23. Complex Extensor Reconstruction

Part 4. Shoulder
24. Shoulder Tendonitis
25. Rotator Cuff Repairs
26. Glenohumeral Instability
27. Humeral Fractures
28. Shoulder Arthroplasty

Part 5. Elbow
29. Epicondylitis
30. Elbow Fractures and Dislocations
31. Elbow Arthroscopy
32. Elbow Arthroplasty

Part 6. Wrist and Distal Radial Ulnar Joint
33. Wrist and Hand Tendonopathies
34. Wrist Arthroscopy
35. Carpal Fractures and Instabilities
36. Triangular Fibrocartilage Injuries
37. External and Internal Fixation of Unstable Distal Radius Fractures
38. Ulnar Head Resection
39. Proximal Row Carpectomy
40. Wrist Arthroplasty
41. Wrist Arthrodesis

Part 7. Hand
42. Dupuytren's Disease
43. Ligament Injuries of the Hand
44. Digital Fracture Rehabilitation
45. Replantation
46. Digital Amputation and Ray Resection
47. Metacarpal and Proximal interphalangeal Joint Capsulectomy
48. Thumb Carpometacarpal Joint Arthroplasty
49. Metacarpophalangeal Joint Arthroplasty
50. Proximal and Distal Interphalangeal Joint Arthroplasty
51. Small Joint Arthrodesis of the Hand

Part 8. Special Topics
52. Conservative Management of Arthritis
53. Congenital Hand Differences
54. Therapeutic Management of the Performing Artist
55. Special Considerations and Common Injuries of Athletes
56. Management of Acquired Upper Extremity Amputations
57. Social Work Services
58. Industrial Rehabilitation Services
59. Evidence-Based Practice in Hand Therapy

Susan L. Burke, OTR/L, CHT, MBA, Regional Director, Hand and Upper Extremity Program, Department of Hand Therapy, Curtis National Hand Center, Union Memorial Hospital, Baltimore, MD, James Higgins, MD, Chief of Hand Surgery, Curtis National Hand Center, Union Memorial Hospital, Baltimore, MD, Michael A. McClinton, MD, Attending Hand Surgeon, Curtis National Hand Center, Union Memorial Hospital, Baltimore, MD, Rebecca Saunders, PT, CHT, Clinical Specialist, Research and Staff Development, Department of Hand Therapy, Curtis National Hand Center, Union Memorial Hospital, Baltimore, MD and Lauren Valdata, RPT, CHT, Senior Hand Therapist, Raymond M. Curtis Hand Center, The Union Memorial Hospital, Baltimore, MD