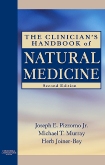 Imprint:
Churchill Livingstone
The Clinician's Handbook of Natural Medicine
,2nd Edition
Paperback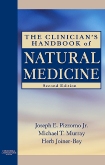 Imprint:
Churchill Livingstone
Free Shipping!
This item has low stock levels and may be back-ordered. We'll let you know if it is back-ordered, and you will not be charged until the item ships.
Written by leading authorities in complementary and integrative medicine, this convenient, quick-reference handbook provides clear and rational directives on diagnosing and treating specific diseases and disorders with natural medicine. You'll get concise summaries of diagnostic procedures, general considerations, therapeutic considerations, and therapeutic approaches for 84 of the most commonly seen conditions, 12 of which are new to this edition, plus naturopathic treatment methods and easy-to-follow condition flowcharts. Based on Pizzorno's trusted Textbook of Natural Medicine and the most current evidence available, it's your key to accessing reliable, natural diagnosis and treatment options in any setting.
Expert authorship lends credibility to information.
Scientifically verified content assures the most reliable coverage of diagnostic and natural treatment methods.
Over 80 algorithms synthesize therapeutic content and provide support for your clinical judgment with a conceptual overview of case management.
The book's compact size makes it portable for easy reference in any setting.
A consistent organization saves you time and helps you make fast, accurate diagnoses.

12 NEW chapters enhance your treatment knowledge and understanding with information on important and newly emerging treatments and areas of interest, including:

Cancer
Endometriosis
Fibromyalgia
Hair Loss in Women
Hyperventilation Syndrome
Infectious Diarrhea
Intestinal Protozoan Infestation
Lichen Planus
Parkinson's Disease
Porphyrias
Proctological Conditions
Uterine Fibroids

Each chapter is fully updated to reflect the content of the latest edition of Pizzorno's Textbook of Natural Medicine and keep you current on the safest and most effective natural interventions.

1. Naturopathic Philosophy of Healing
2. Acne
3. Affective Disorders
4. Alcoholism
5. Alzheimer's Disease
6. Angina
7. Aphthous Stomatitis
8. Asthma
9. Atherosclerosis
10. Atopic Dermatitis
11. Attention Deficit and Learning Disabilities
12. Bacterial Sinusitis
13. Benign Prostatic Hyperplasia
14. Cancer NEW
15. Carpal Tunnel Syndrome
16. Celiac Disease
17. Cellulite
18. Cervical Dysplasia
19. Chronic Candidiasis
20. Chronic Fatigue Disorder
21. Congestive Heart Failure
22. Cystitis
23. Dermatitis Herpetiformis
24. Diabetes
25. Endometriosis NEW
26. Epilepsy
27. Erythema Multiforme
28. Fibromyalgia NEW
29. Fibrocystic Breast Disease
30. Food Reactions
31. Funcitonal Toxicology
32. Gallstones
33. Glaucoma
34. Gout
35. Hair Loss in Women NEW
36. Hepatitis
37. Herpes Simplex
38. HIV
39. Homocysteine
40. Hypertension
41 Hypetrhyroidism
42. Hyperventilation Syndrome NEW
43. Hypoglycemia
44. Hypothyroidism
45. Immune Support
46. Infectious Diarrhea NEW
47. Inflammatory Bowel Disease
48. Insomnia
49. Intestinal Protozoan Infestation NEW
50. Irritable Bowel Syndrome
51. Kidney Stones
52. Leukoplakia
53. Lichen Planus NEW
54. Macular Degeneration
55. Maldigestion
56. Male Infertility
57. Menopause
58. Menorrhagia
59. Migraine
60. Multiple Sclerosis
61. Nausea and Vomiting of Pregnancy
62. Obesity
63. Osteoarthritis
64. Osteoporosis
65. Otitis Media
66. Parkinson's Disease NEW
67. Peptic Ulcer
68. Periodontal Disease
69. Pelvic Inflammatory Disease
70. Premenstrual Syndrome
71. Pneumonia
72. Porphyrias NEW
73. Proctological Conditions NEW
74. Psoriasis
75. Rheumatoid Arthritis
76. Rosacea
77. Seborrheic Dermatitis
78. Senile Cataracts
79. Streptococcal Pharyngitis
80. Stress Management
81. Trichomoniasis
82. Urticaria

Joseph E. Pizzorno, ND, President Emeritus, Bastyr University, Kenmore, WA, USA, Michael T. Murray, ND, Faculty, Bastyr University, Kenmore, WA, USA and Herb Joiner-Bey, ND, Naturopathic Physician, WA