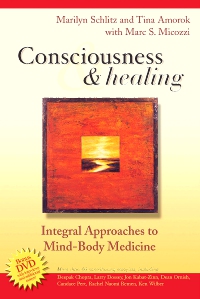 Imprint:
Churchill Livingstone
Consciousness and Healing
,
Paperback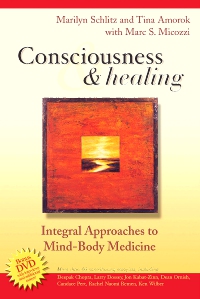 Imprint:
Churchill Livingstone
Free Shipping!
In Stock
This item has low stock levels and may be back-ordered. We'll let you know if it is back-ordered, and you will not be charged until the item ships.
This collection of essays on integral medicine, consciousness, and healing integrates mainstream medical knowledge with recent developments in the emerging areas of frontier sciences and insights from alternative healing perspectives. It promotes a model of healing in which personal relationships, emotions, meaning, and belief systems are viewed as fundamental points of connection between body, mind, spirit, society, and nature. Integral medicine embraces the recognition that human beings possess emotional, spiritual, and relational dimensions that are essential in the diagnosis and treatment of disease and the cultivation of wellness.

Readers learn from the leaders in the emerging field of integral medicine and consciousness research, from the most well known (Deepak Chopra), to the frontline policy makers (James Gordon—one of the heads of the White House Commission on Conventional and Complementary and Alternative Medicine). Readers also gain insights from health professionals who have experienced healing within themselves and witnessed remarkable healing in their patients. We hear from other medical professionals (through the essays and the interviews on the accompanying DVD) who approach medicine from an array of cultural perspectives, and can attest to this multicultural, interdisciplinary, and participatory healing system in action. Consciousness and Healing contains 47 essays in the book plus 9 bonus essays read aloud on the DVD. Essays are short and in language suited to an audience of both lay and professional readers, with extensive references on the DVD to original scientific studies for those interested in further exploration.
The most comprehensive and authoritative collection of work on the subject of healing.
Joins subjective mind-body experiences with evidence-based research.
Comprehensive view of healing as a complex system — something few texts do from such an interdisciplinary, multidimensional, and scientific perspective.
The editors build on over 30 years of research in the area of mind-body medicine and consciousness
The DVD packaged with this product contains 50 minutes of video interviews with many of the high-profile leaders who contribute to this book, as well as practitioners in the medical field who do not contribute to this book, but who do subscribe to its philosophy. It also contains 9 essays (read aloud) that are not in the book. References and the book's table of contents are on the DVD in Microsoft Word format.
Essays are written in a conversational style allowing the thoughts of the contributors on the transformation of medicine to be projected in their own voice.
Editors and contributors are on the forefront of the field of integrative medicine.
Subject is timely; this book takes CAM one-step further by providing physicians with a vision for the future.

Foreword: The Integral Vision of Healing - Ken Wilber
Preface: The Integral Impulse: A New Perspective for Medicine - Marilyn Schlitz, Ph.D.

I: Defining Integral Medicine Editors Introduction
• Towards a Post Modern Integral Medicine - Elliott Dacher
• An Integral Approach to Medicine - John Astin and Alexander W. Astin.
• From Integrative to Integral Medicine: A Leap of Faith - William Benda

II: Mapping the Healing System Editors Introduction
Mind-Body Medicine
• Mind and Mindlessness in Mind-Body Research - Harris Dienstfrey
• The Psychosomatic Network: Foundations of Mind-Body Medicine - Candace Pert, Henry Dreher, and Michael R. Ruff
• Psychological Aspects of Mind-Body Medicine: Promises and Pitfalls from Research with Cancer Patients - Stephanie Simonton and Allen Sherman
New Perspectives on the Body
• Meaning and the History of the Body: Toward a Postmodern Medicine - David Michael Levin
• Breathing, Moving, Sensing, and Feeling: Somatics and Integral Medicine - Don Hanlon Johnson
• Transformational Surgery: Symbol, Ritual and Initiation in Contemporary Cosmetic Surgery - Loren Eskenazi
• Healing and Transformation Through Expressive Arts: Dance as Integral Therapy and as a Healing Force - Anna Halprin and Michael Samuels
Re-Visioning Illness
• What Does Illness Mean? - Larry Dossey
• Living with Cancer: From Victim to Victor, The Integration of Mind, Body and Spirit - Caryle Hirshberg
• Our Evolving Views of Health and Illness: What Does it All Mean? - Richard B. Miles
Honoring the Spectrum of Life
• The Conflict of Biological & Cultural Imperatives - Joseph Chilton Pearce
• Aging with Awareness - Ron Valle & Mary Mohs
• Timeless Mind, Ageless Body - Deepak Chopra
• An Integral Approach to the End of Life - Karen Wyatt
• Consciousness Beyond Death - Marilyn Schlitz

III: Healing: A Move Toward Wholeness Editor Introduction
Psychology's Movement Toward Wholeness
• Integral Psychology: Psychology of the Whole Human Being - Bahman Shirazi
• Psychology of the Future: Lessons from Modern Consciousness Research - Stanislav Grof
• Transpersonal Images: Implications for Health - William Braud
Spirituality, Religion & Healing
• Etiology Recapitulates Ontology: Reflections on Restoring the Spiritual Dimension to Models of the Determinants of Health - Jeff Levin
• The Practices of Essential Spirituality - Roger Walsh
• Opening Your Heart: Anatomically, Emotionally, Spiritually - Dean Ornish
• The Return of Prayer - Larry Dossey
Essential Capacities
• A Prolegomenon to an Epidemiology of Love: Theory, Measurement, and Health Outcomes - Jeff Levin
• The Art and Science of Forgiveness - Frederic Luskin
• Gratefulness - Brother David Steindl-Rast
• The Contemplative Mind in Society - Jon Kabat-Zinn

IV: Honoring Multiple Ways of Knowing Editors Introduction
Epistemological Pluralism
• The Implications of Alternative and Complementary Medicine for Science and the Scientific Process - Marilyn Schlitz and Willis Harman
• The Technologies of Shamanic States of Consciousness - Stanley Krippner
• Multiple Ways of Knowing - Frances Vaughan
Integrating the Wisdom of the World's Healing Systems
• Restoration of Dynamic Balance: Traditional Ways of Healing Expressed through Navajo Consciousness - Nancy C. Maryboy and David Begay
• The Spiritual Heart of Tibetan Medicine: Its Contribution to the Modern World - Sogyal Rinpoche
• Ancient Times to Present: Changing Perspectives on Healing Energy in Traditional Chinese Medicine - Garret Yount, Yifang Qian, and Honglin Zhang

V: Envisioning a New Story for Health & Healing
Editor Introduction
Transformations of Medicine
• Recapturing the Soul of Medicine - Rachel Naomi Remen
• Through Conventional Medicine to Integral Medicine: Challenges and Promises - Tom Janisse
• Transformation of the Healer: The Application of Ken Wilber's Integral Model to Family Practice Medicine - Larry George
• Metaphysics of Virtual Caring Communities - Jean Watson
Socio-Political Transformations of Integral Medicine
• The White House Commission on Complementary and Alternative Medicine Policy and the Future of Healthcare - James S. Gordon and Marilyn Schlitz
• Sociopolitical Challenges of Integral Medicine - Sumedha Khanna
Healthy Earth-Healthy Human
• The Ecozoic Era - Brian Swimme and Thomas Berry
• Living in the Earth: Ecopsychology, Health and Psychotherapy - Sarah Conn
• Surviving the Great Dying - Michael Lerner
• Healing through Collective Consciousness: The Therapeutic Nature of the Human/Animal Bond - William Benda and Rondi Lightmark
Social Healing
• Social Healing: Herald of a Shift in Human Consciousness - James O'Dea
• Reinventing the Human - Thomas Berry

Marilyn Schlitz, PhD, Vice President of Research and Education, Institute of Noetic Sciences, Petaluma, CA, Tina Amorok, Marc S. Micozzi, MD, PhD, Adjunct Professor, Department of Physiology and Biophysics, Georgetown University School of Medicine, Washington, DC; Former Director, Center for Integrative Medicine, Thomas Jefferson University Hospital, Philadelphia, PA; former Executive Director of the College of Physicians of Philadelphia and IONS