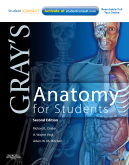 Imprint:
Churchill Livingstone
Gray's Anatomy for Students
,2nd Edition
Paperback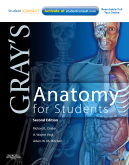 Imprint:
Churchill Livingstone
It didn't take long for students around the world to realize that anatomy texts just don't get any better than Gray's Anatomy for Students. Only in its 2nd edition, this already popular, clinically focused reference has moved far ahead of the competition and is highly recommended by anyone who uses it. A team of authors with a wealth of diverse teaching and clinical experience has updated and revised this new edition to efficiently cover what you're learning in contemporary anatomy classes. An improved format, updated clinical material, and remarkable artwork by renowned illustrators Richard Tibbitts and Paul Richardson make anatomy easier than ever for you to master. Unique coverage of surface anatomy, correlative diagnostic images, and clinical case studies demonstrate practical applications of anatomical concepts. And, an international advisory board, comprised of more than 100 instructors, ensures that the material is accurate, up to date, and easy to use. To further enhance your learning experience, you'll have access to the entire book online, with additional content, interactive exercises, and more.
Offers the complete contents of the book online as well as additional material, interactive exercises, and much more, at www.studentconsult.com, giving you anywhere, anytime access to the information you need.

Uses more than 1,000 innovative original illustrations— by renowned illustrators Richard Tibbitts and Paul Richardson—to capture anatomical features with unrivalled clarity, and makes body structures easy to locate and remember from one illustration to another through consistent use of color.

Includes over 300 clinical photographs, including radiological images depicting surface anatomy and common clinical applications of anatomic knowledge.

Presents an organization by body region that parallels the approach used in most of today's anatomy courses.

Features conceptual overviews summarizing each body region's component parts, functions, and relationship to other bodily organs.

Uses clinical cases to underscore the real-life relevance of the material.

Promotes further learning with other fine ancillaries from Gray's, including Gray's Atlas of Anatomy, Dorland's/Gray's Pocket Atlas of Anatomy, Gray's Dissection Guide for Human Anatomy, and Gray's Anatomy for Students Flash Cards.

Features a rewritten abdomen section for greater clarity.

Provides updates and revisions to clinical material to provide you with the absolute latest knowledge in the field.

Includes expanded discussions of cranial nerves for added clinical relevancy.

Uses a new internal design and presents an improved index for easier retrieval of information.

Provides more information on the general aspects of anatomy via introduction chapter.

1 The body

What is anatomy? 4

How can gross anatomy be studied? 4

Important anatomical terms 4

Imaging 7

Diagnostic imaging techniques 7

Nuclear medicine imaging 10

Image interpretation 11

Plain radiography 12

Computed tomography 12

Magnetic resonance imaging 13

Nuclear medicine imaging 13

Safety in imaging 13

Body systems 14

Skeletal system 14

Cartilage 14

Bone 15

Joints 20

Skin and fascias 26

Skin 26

Fascia 26

Muscular system 27

Cardiovascular system 29

Lymphatic system 31

Lymphatic vessels 31

Lymph nodes 32

Lymphatic trunks and ducts 32

Nervous system 34

Central nervous system 34

Functional subdivisions of the CNS 34

Somatic part of the nervous system 35

Visceral part of the nervous system 41

Other systems 52

Clinical cases 53

2 Back

Conceptual overview 56

General description 56

Functions 57

Support 57

Movement 57

Protection of the nervous system 58

Component parts 58

Bones 58

Muscles 60

Vertebral canal 62

Spinal nerves 63

Relationship to other regions 64

Head 64

Thorax, abdomen, and pelvis 65

Limbs 65

Key features 65

Long vertebral column and short spinal cord 65

Intervertebral foramina and spinal nerves 66

Innervation of the back 66

Regional anatomy 67

Skeletal framework 67

Vertebrae 67

Intervertebral foramina 75

Posterior spaces between vertebral arches 75

Joints 79

Joints between vertebrae in the back 79

Ligaments 82

Anterior and posterior longitudinal ligaments 82

Ligamenta flava 82

Supraspinous ligament and ligamentum

nuchae 83

Interspinous ligaments 84

Back musculature 86

Superficial group of back muscles 86

Intermediate group of back muscles 92

Deep group of back muscles 93

Suboccipital muscles 99

Spinal cord 101

Vasculature 102

Meninges 104

Arrangement of structures in the vertebral

canal 106

Spinal nerves 107

Surface anatomy 112

Back surface anatomy 112

Absence of lateral curvatures 112

Primary and secondary curvatures in the sagittal

plane 112

Useful nonvertebral skeletal landmarks 112

How to identify specific vertebral spinous

processes 114

Visualizing the inferior ends of the spinal cord and

subarachnoid space 115

Identifying major muscles 116

Clinical cases 118

3 Thorax

Conceptual overview 124

General description 124

Functions 125

Breathing 125

Protection of vital organs 125

Conduit 125

Component parts 125

Thoracic wall 125

Superior thoracic aperture 126

Inferior thoracic aperture 126

Diaphragm 127

Mediastinum 128

Pleural cavities 128

Relationship to other regions 129

Neck 129

Upper limb 130

Abdomen 130

Breast 130

Key features 130

Vertebral level TIV/V 130

Venous shunts from left to right 132

Segmental neurovascular supply of thoracic

wall 132

Sympathetic system 134

Flexible wall and inferior thoracic aperture 134

Innervation of the diaphragm 134

Regional anatomy 137

Pectoral region 137

Breast 137

Muscles of the pectoral region 139

Thoracic wall 141

Skeletal framework 141

Intercostal spaces 147

Diaphragm 156

Venous drainage 158

Innervation 158

Movements of the thoracic wall and diaphragm

during breathing 158

Pleural cavities 159

Pleura 159

Lungs 163

Mediastinum 176

Middle medias

Richard Drake, PhD, FAAA, Director of Anatomy, Professor of Surgery, Cleveland Clinic Lerner College of Medicine, Case Western Reserve University, Cleveland, Ohio, A. Wayne Vogl, PhD, FAAA, Professor of Anatomy & Cell Biology, Department of Cellular and Physiological Sciences, Faculty of Medicine, University of British Columbia, Vancouver, British Columbia, Canada and Adam W. M. Mitchell, MB, BS, FRCS, FRCR, Consultant Radiologist, Chelsea and Westminster Hospital, Honorary Senior Lecturer Imperial College, London, United Kingdom