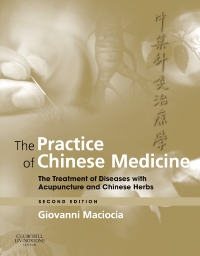 Imprint:
Churchill Livingstone
The Practice of Chinese Medicine, 2nd Edition
Hardcover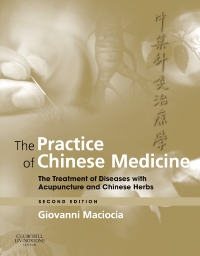 Imprint:
Churchill Livingstone
Free Shipping!
This item has low stock levels and may be back-ordered. We'll let you know if it is back-ordered, and you will not be charged until the item ships.
The 2nd edition of The Practice of Chinese Medicine: The Treatment of Diseases with Acupuncture and Chinese Herbs describes the application of traditional Chinese medical theory to the diagnosis and treatment of 48 diseases, conditions and disorders. In addition to the existing 34 covered in the first edition, 14 new conditions and symptoms have been added, and these include common, chronic, and acute conditions which clinicians may see in their practice. Each chapter contains aetiology and pathology; differential diagnosis according to TCM; selection of treatments with acupuncture and herbs, with explanation of choices; case studies for illustration; summary of Western differential diagnosis; and discussion of prognosis and prevention. This book brings the enormous wealth of the author's experience, and his insights in applying TCM medicine to a Western context, to the support of all clinicians whatever their own range of experiences.
1. HEADACHES

2. DIZZINESS

3. BREATHLESSNESS

4. WHEEZING

5. ASTHMA

6. ALLERGIC RHINITIS

7. SINUSITIS

8. COUGH

9. THE PSYCHE IN CHINESE MEDICINE

10. THE EMOTIONS

11. AETIOLOGY OF MENTAL-EMOTIONAL PROBLEMS

12. DIAGNOSIS OF MENTAL-EMOTIONAL PROBLEMS

13. DEPRESSION

14. ANXIETY

15. INSOMNIA

16. PATTERNS IN MENTAL-EMOTIONAL PROBLEMS AND THEIR TREATMENT WITH HERBAL MEDICINE AND ACUPUNCTURE

17. TINNITUS

18. GOITRE (THYROID PROBLEMS)

19. HYPERTENSION

20. TIREDNESS

21. CHEST PAINFUL OBSTRUCTION SYNDROME

22. EPIGASTRIC PAIN

23. NAUSEA/VOMITING

24. ACID REFLUX

25. MOUTH ULCERS

26. HYPOCHONDRIAL PAIN

27. ABDOMINAL PAIN

28. ABDOMINAL MASSES

29. DIARRHOEA

30. CONSTIPATION

31. URINARY SYNDROME

32. ENURESIS AND INCONTINENCE

33. URINARY RETENTION

34. INTERSTITIAL CYSTITIS

35. BENIGN PROSTATIC HYPERPLASIA

36. PROSTATITIS

37. OEDEMA

38. PAINFUL OBSTRUCTION SYNDROME

39. LOWER BACK-ACHE

40. FIBROMYALGIA

41. CHRONIC FATIGUE SYNDROME

42. PARKINSON'S DISEASE

43. WIND-STROKE

44. ATROPHY SYNDROME

45. MULTIPLE SCLEROSIS

46. BLEEDING

47. ERECTILE DYSFUNCTION

48. COMMON COLD AND INFLUENZA

APPENDIX 1. IDENTIFICATION OF PATTERNS ACCORDING TO THE SIX STAGES

APPENDIX 2. IDENTIFICATION OF PATTERNS ACCORDING TO THE FOUR LEVELS

APPENDIX 3. IDENTIFICATION OF PATTERNS ACCORDING TO THE THREE BURNERS

APPENDIX 4. LIST OF PRESCRIPTIONS

APPENDIX 5. ACUPUNCTURE POINTS FOR MENTAL-EMOTIONAL PROBLEMS

GLOSSARY

BIBLIOGRAPHY

CHINESE DYNASTIES

Giovanni Maciocia, CAc(Nanjing), Acupuncturist and Medical Herbalist, UK; Visiting Professor, Nanjing University of Traditional Chinese Medicine, Nanjing, People's Republic of China.