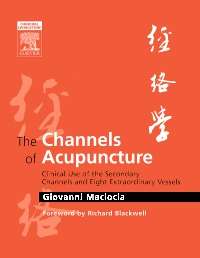 Imprint:
Churchill Livingstone
The Channels of Acupuncture, 1st Edition
Hardcover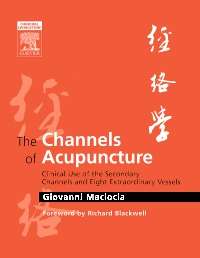 Imprint:
Churchill Livingstone
Free Shipping!
In Stock
This item has low stock levels and may be back-ordered. We'll let you know if it is back-ordered, and you will not be charged until the item ships.
One of the most highly-regarded and respected authors and lecturers in the West, Giovanni Maciocia, illuminates and examines the art of traditional Chinese acupuncture with this in-depth look at the secondary channels and other key structures encompassing the human body in Chinese anatomy. This book describes in detail the pathways, pathology, diagnosis, and treatment of the Luo, Muscle, and Divergent secondary channels, as well as other key structures such as the Cou Li and Huang membranes, and gives a thorough, clear overview of subjects poorly understood and incompletely covered in other English language texts. Over one third of the book is dedicated to the Eight Extraordinary Channels, providing the reader with the most in-depth information available in the English language. Drawing on his broad clinical experience, the author covers the energetic physiology, pathology and points by body area, providing ease of access for both the student and practitioner of acupuncture. The Channels of Acupuncture presents comprehensive and clear information on an essential part of traditional Chinese medicine.
Covers key channels not thoroughly discussed in other texts, giving all students and practitioners detailed and clear material to guide them in their practice of acupuncture.
Offers new information and insight on other key body structures in Chinese medicine including extraordinary vessels as well as the Cou Li and Huang membranes.
Clear illustrations depict the exact channel pathways, diminishing any confusion about their location.
Case histories and research from Giovanni Maciocia present a wide range of experiences and examples of clinical practice and study.

PART 1

THE CHANNEL SYSTEM


Chapter 1 CONCEPT OF "CHANNEL" IN CHINESE MEDICINE

Chapter 2 MORPHOLOGY AND FLOW OF QI OF CHANNELS

Chapter 3 THE MEMBRANES (HUANG), FAT TISSUE (GAO), THE CAVITIES AND TEXTURE (COU LI) AND THE TRIPLE BURNER CAVITIES

Chapter 4 FUNCTIONS OF THE CHANNELS IN GENERAL

Chapter 5 THE CHANNELS IN DIAGNOSIS



PART 2

MAIN CHANNELS


Chapter 6 PATHWAYS OF THE MAIN CHANNELS

Chapter 7 CHANNEL SYMPTOMS

Chapter 8 TREATMENT OF MAIN CHANNELS

Chapter 9 THE FIVE TRANSPORTING (SHU) POINTS

Chapter 10 CATEGORIES OF POINTS

Chapter 11 THE COMBINATION OF ACUPUNCTURE POINTS



PART 3

CONNECTING CHANNELS (LUO MAI)


Chapter 12 MORPHOLOGY AND PATHWAYS OF CONNECTING CHANNELS

Chapter 13 PHYSIOLOGY OF THE CONNECTING CHANNELS

Chapter 14 AETIOLOGY AND DIAGNOSIS OF THE CONNECTING CHANNELS

Chapter 15 PATHOLOGY OF CONNECTING CHANNELS

Chapter 16 TREATMENT OF THE CONNECTING CHANNELS



PART 4

MUSCLE CHANNELS (JING JIN)


Chapter 17 MORPHOLOGY AND PATHWAYS OF THE MUSCLE CHANNELS

Chapter 18 MUSCLE CHANNELS - FUNCTIONS AND AETIOLOGY

Chapter 19 PATHOLOGY AND SYMPTOMS OF MUSCLE CHANNELS

Chapter 20 TREATMENT OF MUSCLE CHANNELS



PART 5

DIVERGENT CHANNELS (JING BIE)


Chapter 21 MORPHOLOGY OF DIVERGENT CHANNELS

Chapter 22 FUNCTIONS AND CLINICAL USE OF THE DIVERGENT CHANNELS



PART 6

CUTANEOUS REGIONS


Chapter 23 THE 12 CUTANEOUS REGIONS





PART 7

EIGHT EXTRAORDINARY VESSELS


Chapter 24 THE 8 EXTRAORDINARY VESSELS

Chapter 25 CLINICAL USE OF THE EXTRAORDINARY VESSELS

CHAPTER 26 GOVERNING VESSEL (DU MAI)

Chapter 27 DIRECTING VESSEL (REN MAI)

Chapter 28 PENETRATING VESSEL (CHONG MAI)

Chapter 29 GIRDLE VESSEL (DAI MAI)

Chapter 30 YIN STEPPING VESSEL (YIN QIAO MAI)

Chapter 31 YANG STEPPING VESSEL (YANG QIAO MAI)

Chapter 32 COMBINED YIN AND YANG STEPPING VESSELS' PATHOLOGY

Chapter 33 YIN LINKING VESSEL (YIN WEI MAI)

Chapter 34 YANG LINKING VESSEL (YANG WEI MAI)

Chapter 35 COMBINED YIN AND YANG LINKING VESSELS' PATHOLOGY

Chapter 36 THE EIGHT POINTS OF THE DIVINE TURTLE



PART 8

THE INTEGRATION OF MUSCLE AND CONNECTING CHANNELS


Chapter 37 PAINFUL OBSTRUCTION (BI) SYNDROME
(TRAUMA, SPORTS INJURIES, REPETITIVE-STRAIN INJURY)

Giovanni Maciocia, CAc(Nanjing), Acupuncturist and Medical Herbalist, UK; Visiting Professor, Nanjing University of Traditional Chinese Medicine, Nanjing, People's Republic of China.