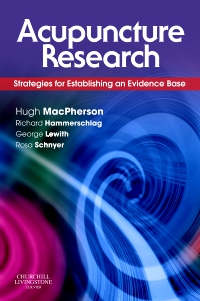 Imprint:
Churchill Livingstone
Acupuncture Research
Paperback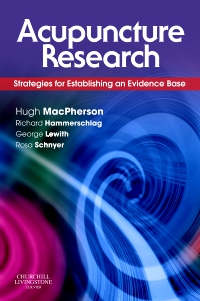 Imprint:
Churchill Livingstone
Free Shipping!
In Stock
This item has low stock levels and may be back-ordered. We'll let you know if it is back-ordered, and you will not be charged until the item ships.
This is the first book to set out a full range of research strategies for evaluating the clinical practice of acupuncture. Leading acupuncturists and researchers with international reputations share their expertise. They illustrate their descriptions with practical examples of what has worked and what has not. It outlines many of the key challenges in the field. These challenges relate to the nature of acupuncture and the gap between current research evidence and the actual experiences of acupuncturists in the field. By focusing the chapters on key research questions, rather than methods, the book has a user-friendly feel. Each chapter is easily accessible with brief explanations of research designs as well as vignettes of relevant past research. The book is based on a deep understanding of acupuncture, with its inherent complexity in practice, whether based on traditional principles or more modern concepts. By incorporating a more sophisticated understanding of the field, this book details a range of strategies aiming to develop the evidence base with the utmost rigour. It is the first book on acupuncture research to take this unique view, integrating the very best of evidence-based medicine with a genuine sensitivity to the discipline of acupuncture, from its traditional and holistic roots to its more modern interpretations.
Glossary of research terminology

Chapter 1 Introduction: acupuncture and the emerging evidence mosaic, Hugh MacPherson, Kate Thomas

Chapter 2 Acupuncture research: the story so far, Stephen Birch, George Lewith

Chapter 3 Patient patterns of use and experience of acupuncture, Claire M. Cassidy, Kate Thomas

Chapter 4 The safety of acupuncture, Hugh MacPherson, Adrian White, Alan Bensoussan

Chapter 5 Measuring patient-centred outcomes, Charlotte Paterson, Rosa N. Schnyer

Chapter 6 Exploring treatment effects: studies without control groups, Adrian White, Peter Wayne, Hugh MacPherson

Chapter 7 Comparing treatment effects of acupuncture and other types of healthcare, Karen Sherman, Klaus Linde, Adrian White

Chapter 8 Investigating the components of acupuncture treatment, Peter White, Klaus Linde, Rosa N. Schnyer

Chapter 9 Acupuncture practice as the foundation for clinical evaluation, Rosa N. Schnyer, Stephen Birch, Hugh MacPherson

Chapter 10 Physiological dynamics of acupuncture:
correlations and mechanisms, Richard Hammerschlag, Hélène M. Langevin, Lixing Lao,George Lewith

Chapter 11 Evidence overviews: the role of systematic reviews and meta-analyses, Klaus Linde, Richard Hammerschlag, Lixing Lao

Chapter 12 Engaging acupuncturists in research —some practical guidelines, Peter Wayne, Karen Sherman, Mark Bovey

Chapter 13 Future strategies for acupuncture research, George Lewith

Index

Hugh MacPherson, PhD, Senior Research Fellow, Department of Health Sciences, University of York, York, UK