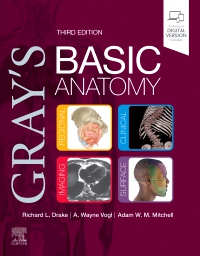 Publication Date:
08-11-2022
Evolve Resources for Gray's Basic Anatomy, 3rd Edition
Resources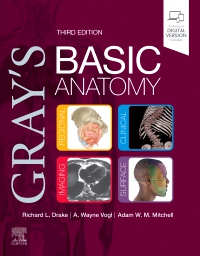 Publication Date:
08-11-2022
Free with purchase of new corresponding textbook
Developed in response to student and faculty feedback worldwide, Gray's Basic Anatomy is a concise, easy-to-read text known for its utility and clarity, relevant and accurate content, strong clinical focus, and interactive online features. Perfect for readers who need an efficient, high-yield anatomy text, the fully updated 3rd Edition covers the key anatomical concepts that students need to know, all superbly illustrated with full-color artwork. Using a progressive and accessible approach, it provides a practical foundation of anatomical knowledge in a time-saving, highly understandable manner.
There are no student resources for this product.
Richard Drake, PhD, Director of Anatomy, Professor of Surgery, Cleveland Clinic Lerner College of Medicine, Case Western Reserve University, Cleveland, Ohio, A. Wayne Vogl, PhD, Professor of Anatomy & Cell Biology, Department of Cellular and Physiological Sciences, Faculty of Medicine, University of British Columbia, Vancouver, British Columbia, Canada; and Adam W. M. Mitchell, MB BS, FRCS, FRCR, Lecturer, Interventional Fellow, Department of Interventional Radiology, Hammersmith Hospital, London, UK
Free with purchase of new corresponding textbook