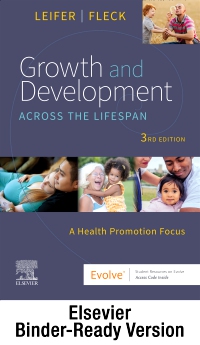 Publication Date:
10-10-2022
Growth and Development Across the Lifespan - Binder Ready, 3rd Edition
Binder Ready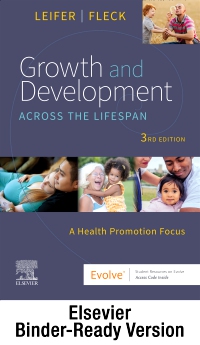 Publication Date:
10-10-2022
Free Shipping!
This item has low stock levels and may be back-ordered. We'll let you know if it is back-ordered, and you will not be charged until the item ships.
Promote healthy behaviors and healthy lifestyles throughout the life cycle! Growth and Development Across the Lifespan, 3rd Edition helps you plan and implement appropriate care for patients at each age and stage of life. Explaining concepts of physical, cognitive, social, and personality development, this text provides strategies for improving patient health and quality of life for each age group. Healthy People 2030 objectives are used to set a framework for positive health behaviors. From noted educators and authors Gloria Leifer and Eve Fleck, this book shows how a knowledge of normal growth and aberrations can be used to design individual approaches to patient care.
Patient teaching strategies are provided for every development stage, providing age-appropriate patient education tips.
Cultural influences on health are included in a separate Cultural Considerations in Health Care chapter and in special boxes throughout the text.
Lifespan Considerations boxes focus on issues specific to development stages.
Health Promotion boxes highlight critical health issues related to each life stage.
Safety Alert boxes focus on key safety issues for each life stage.
Critical Thinking scenarios and questions appear at the end of each chapter to help you consider all variables when planning care across the lifespan.
Learning features include objectives, key terms, key points, and review questions in each chapter.

NEW! Healthy People 2030 goals and objectives are incorporated throughout the book.
NEW! Case studies are included in life stage chapters.
NEW! Updated physical activity guidelines are included from the World Health Organization, Centers for Disease Control and Prevention, the Journal of the American Medical Association, and the U.S. Department of Health and Human Services.
NEW! Updated content includes microbiomes, obesity, nutrition, telehealth, social media, substance abuse, and gun safety.
NEW! Review questions are added to the Evolve companion website.

1. Healthy People 2030
2. Government Influences on Health Care
3. Cultural Considerations Across the Lifespan and in Health and Illness
4. The Influence of Family on Developing a Lifestyle
5. Theories of Development
6. Prenatal Influences on Healthy Development
7. The Infant
8. Early Childhood
9. Middle Childhood
10. Adolescence
11. Young Adulthood
12. Middle Adulthood
13. Late Adulthood
14. Advanced Old-Age and Geriatrics
15. Planning for the End of Life
16. Loss, Grief, and Bereavement
Appendix A: Child, Adolescent, and Adult Immunization Schedules
Appendix B: Multilingual Glossary of Symptoms
Glossary
Bibliography
Index

Gloria Leifer, MA, RN, CNE, Professor, Obstetric and Pediatric Nursing, Riverside City College, Riverside, California and Eve Fleck, MS, ACE GFI, ACE PT, NASM CPT, Lecturer, College of Health and Human Development, California State University, Northridge, Los Angeles, California.