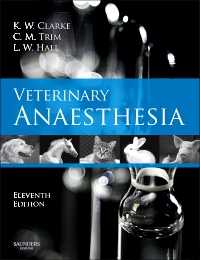 Veterinary Anaesthesia
, 11th Edition
Hardcover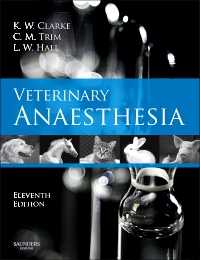 This item has low stock levels and may be back-ordered. We'll let you know if it is back-ordered, and you will not be charged until the item ships.
all large and small animal species covered in one book: includes new advances in anaesthesia in horses, birds, lab animals and wild animals

glossary of USA and UK drug names: up-dated coverage of all new anaesthetic agents in Europe and the USA

first section covers principles of drug action, pharmacokinetics and pharmacodynamics

the only book to discuss anaesthesia of individual species in detail: lot of info on anaesthesia of goats, sheep and other herbivores such as camels and llamas

also covers analgesia in all species

chapter on special cases such as anaesthesia in obstetrics

chapter on anaesthetic accidents and crises !

Presents a range of new chapters from contributors of international repute.
The evidence base has been expanded and, wherever possible, information is supported by a review of the literature.
Now in colour throughout, the all-new design includes check-list boxes to facilitate understanding/troubleshooting and increase safety.
New illustrations have been added in many chapters to clarify practical points of technique.

Contributors

Preface

In memoriam L. W. Hall

SECTION 1 PRINCIPLES AND PROCEDURES

1. An introduction to anaesthesia

And general considerations

2. Patient monitoring and clinical measurement

3. An introduction to pharmacokinetics

4. Principles of sedation, anticholinergic agents, and principles of premedication

5. Analgesia

Kate Borer-Weir

6. Injectable anaesthetic agents

7. General pharmacology of the inhalation anaesthetics

8. Relaxation of the skeletal muscles

9. Pulmonary gas exchange: artificial ventilation of the lungs

10. Apparatus for administration of anaesthetics

SECTION 2 ANAESTHESIA OF THE SPECIES

11. Anaesthesia of the horse

12. Anaesthesia of cattle

13. Anaesthesia of sheep, goats and other herbivores

14. Anaesthesia of the pig

15. Anaesthesia of the dog

16. Anaesthesia of the cat

17. Anaesthesia of small mammals, exotic pets, aquatic and small wildlife

Stephen J. Divers

18. Chemical immobilization of wild animals

Sonia M. Hernandez

SPECIAL ANAESTHESIA

19. Anaesthesia for obstetrics

20. Anaesthesia for intrathoracic procedures

21. Complications

22. Cardiopulmonary cerebral resuscitation (CPCR)

Jennifer G. Adams

Appendix

Index

Kathy W. Clarke, MA, VetMB, DVA, DVetMed, MRCVS, Department of Large Animal Medicine and Surgery, Royal Veterinary College, UK and Cynthia M. Trim, BVSc, MRCVS, DVA, DACVA, DECVA,, Department of Large Animal Medicine, College of Veterinary Medicine, University of Georgia, Athens, GA, USA
This item has low stock levels and may be back-ordered. We'll let you know if it is back-ordered, and you will not be charged until the item ships.