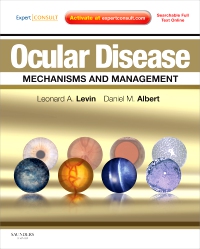 Publication Date:
03-03-2010
Ocular Disease: Mechanisms and Management, 1st Edition
Hardcover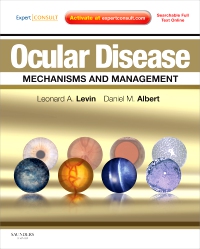 Publication Date:
03-03-2010
Free Shipping!
This item has low stock levels and may be back-ordered. We'll let you know if it is back-ordered, and you will not be charged until the item ships.
Ocular Disease—a newly introduced companion volume to the classic Adler's Physiology of the Eye—correlates basic science and clinical management to describe the how and why of eye disease processes and the related best management protocols. Editors Leonard A. Levin and Daniel M. Albert—two of the world's leading ophthalmic clinician-scientists—have recruited as contributors the most expert and experienced authorities available in each of the major areas of ophthalmic disease specific to ophthalmology: retina, cornea, cataract, glaucoma, uveitis, and more. The concise chapter structure features liberal use of color—with 330 full-color line artworks, call-out boxes, summaries, and schematics for easy navigation and understanding. In print and online at expertconsult.com, this comprehensive resource provides you with a better and more practical understanding of the science behind eye disease and its relation to treatment.
Includes access to the fully searchable text online at expertconsult.com, along with images and references.

Covers all areas of disease in ophthalmology including retina, cornea, cataract, glaucoma, and uveitis for the comprehensive information you need for managing clinical cases.

Presents a unique and pragmatic blend of necessary basic science and clinical application to serve as a clinical guide to understanding the cause and rational management of ocular disease.

Features 330 full-color line artworks that translate difficult concepts and discussions into concise schematics for improved understanding and comprehension.

Provides the expert advice of internationally recognized editors with over 40 years of experience together with a group of world class contributors in basic science and clinical ophthalmology.

SECTION 1 Cornea

1. Loss of corneal transparency

Russell L McCally

2. Abnormalities of corneal wound healing

Audrey M Bernstein

3. Wound healing after laser in situ keratomileusis and photorefractive keratectomy

Fabricio Witzel de Medeiros and Steven E Wilson

4. Genetics and mechanisms of hereditary corneal dystrophies

John D Gottsch

5. Fuchs' endothelial corneal dystrophy

Vinay Gutti, David S Bardenstein, Sudha Iyengar, and Jonathan H Lass

6. Keratoconus

M Cristina Kenney and Ronald N Gaster

7. Infectious keratitis

Michael S Gilmore, Susan R Heimer, and Ai Yamada

8. Corneal graft rejection

Daniel R Saban, Mohammad H Dastjerdi, and Reza Dana

9. Corneal edema

Daniel G Dawson and Henry F Edelhauser

10. Corneal angiogenesis and lymphangiogenesis

Chih-Wei Wu, David Ellenberg, and Jin-Hong Chang

11. Ocular surface restoration

Julie T Daniels, Genevieve A Secker, and Alex J Shortt

12. Herpetic keratitis

Pranita P Sarangi and Barry T Rouse

13. Ocular allergy

Neal P Barney, Ellen B Cook, James L Stahl, and Frank M Graziano

SECTION 2 Dry eye

14. The lacrimal gland and dry-eye disease

Darlene A Dartt

15. Immune mechanisms of dry-eye disease

Austin K Mircheff and Joel E Schechter

16. Disruption of tear ?lm and blink dynamics

Jianhua Wang and Anuj Chauhan

17. Abnormalities of eyelid and tear ?lm lipid

Gary N Foulks and Douglas Borchman

18 Dry eye: abnormalities of tear ?lm mucins

Ann-Christin Albertsmeyer and Ilene K Gipson

SECTION 3 Glaucoma

19. Steroid-induced glaucoma

Abbot F Clark, Xinyu Zhang, and Thomas Yorio

20. Biomechanical changes of the optic disc

Ian A Sigal, Michael D Roberts, Michael JA Girard, Claude F Burgoyne, and J Crawford Downs

21. Pigmentary dispersion syndrome and glaucoma

Michael G Anderson

22. Abnormal trabecular meshwork out?ow

Paul A Knepper and Beatrice YJT Yue

23. Pressure-induced optic nerve damage

James C Tsai

24. Exfoliation (pseudoexfoliation) syndrome

Robert Ritch and Ursula Schlötzer-Schrehardt

25. Angle closure glaucoma

Shamira Perera, Nishani Amerasinghe, and Tin Aung

26. Central nervous system changes in glaucoma

Yeni N Yücel and Neeru Gupta

27. Retinal ganglion cell death in glaucoma

Heather R Pelzel and Robert W Nickells

28. Wound-healing responses to glaucoma surgery

Stelios Georgoulas, Annegret Dahlmann-Noor, Stephen Brocchini, and Peng Tee Khaw

29. Blood ?owchanges in glaucoma

Leopold Schmetterer and Mark Lesk

SECTION 4 Lens

30. Biochemical mechanisms of age-related cataract

David C Beebe, Ying-Bo Shui, and Nancy M Holekamp

31. Posterior capsule opaci?cation

Judith West-Mays and Heather Sheardown

32. Diabetes-associated cataracts

Peter F Kador

33. Steroid-induced cataract

Abbas Samadi

34. Presbyopia

Jane F Koretz

35. Restoration of accommodation

Stephen D McLeod and Michelle Trager Cabrera

36. Intraoperative ?oppy iris syndrome

Amy Lin and Roger F Steinert

SECTION 5 Neuro-ophthalmology

37. Optic neuritis

John R Guy and Xiaoping Qi

38. Abnormal ocular motor control

James A Sharpe and Arun Sundaram

39. Idiopathic intracranial hypertension (idiopathic pseudotumor cerebri)

Deborah M Grzybowski and Martin Lubow

40. Giant cell arteritis

Lynn K Gordon

41. Ischemic optic neuropathy

Helen Danesh-Meyer

42. Optic nerve axonal injury

Daniela Toffoli and Leonard A Levin

43. Leber's hereditary optic neuropathy

Alfredo Sadun and Alice Kim

44. Optic atrophy

Nathan T Tagg and Randy H Kardon

45. Nystagmus

Frank Proudlock and Irene Gottlob

46. Toxic optic nerve neuropathies

FT "Fritz" Fraunfelder and FW "Rick" Fraunfelder

SECTION 6 Oncology

47. Uveal melanoma

Zélia MS Corrêa and J William Harbour

48. Genetics of hereditary retinoblastoma

Alejandra G de Alba Campomanes and Joan M O'Brien

49. Molecular basis of low-penetrance retinoblastoma

Katie Matatall and J William Harbour

50. Vasculogenic mimicry

Robert Folberg and Andrew J Maniotis

51. Treatment of choroidal melanoma

Aimee V Chappelow and Andrew P Schachat

52. Sebaceous cell carcinoma

Alon Kahana, Jonathan T Pribila, Christine C Nelson, and Victor M Elner

53. Neuro?bromatosis

Robert Listernick and David H Gutmann

SECTION 7 Other

54 Phthisis bulbi

Ingo Schmack, Hans E Völcker, and Hans E Grossniklaus

55. Myopia

Terri L Young

56. Pathogenesis of Graves' ophthalmopathy

A Reagan Schiefer and Rebecca S Bahn

SECTION 8 Pediatrics

57. Duane syndrome

Joseph L Demer

58. Amblyopia

Robert F Hess and Nigel Daw

59 Strabismus

Christopher S von Bartheld, Scott A Croes, and L Alan Johnson

60. Albinism

Gerald F Cox and Anne B Fulton

61. Aniridia

Elias I Traboulsi

SECTION 9 Retina

62. Color vision defects

Maureen Neitz and Jay Neitz

63. Acute retinal vascular occlusive disorders

Sohan Singh Hayreh

64. Retinal photic injury: laboratory and clinical ?ndings

Daniel Organisciak and Marco Zarbin

65. Vascular damage in diabetic retinopathy

Timothy S Kern and Suber Huang

66. Neovascularization in diabetic retinopathy

Corey B Westerfeld and Joan W Miller

67. Diabetic macular edema

Pascale Massin, Michel Paques, and Jean-Antoine Pournaras

68. Dry age-related macular degeneration and age-related macular degeneration pathogenesis

Marco Zarbin and Janet S Sunness

69. Neovascular age-related macular degenerationDavid E Lederer, Scott W Cousins, and Karl G Csaky

70. Inhibition of

Leonard A Levin, MD, PhD, Canada Research Chair of Ophthalmology and Visual Sciences, Univerisity of Montreal, Montreal, Quebec, Canada; Professor of Ophthalmology and Visual Sciences, University of Wisconsin, Madison, WI, USA Canada Research Chair of Ophthalmology and Visual Sciences Department of Ophthalmology University of Montreal and Professor and Daniel M. Albert, MD, MS, F.A. Davis Professor, Department of Ophthalmology and Visual Sciences, University of Wisconsin School of Medicine and Public Health; Founding Director, University of Wisconsin McPherson Eye Research Institute, Madison, WI, USA