Ward's Anaesthetic Equipment, 6th Edition
Hardcover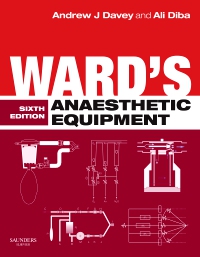 Free Shipping!
This item has low stock levels and may be back-ordered. We'll let you know if it is back-ordered, and you will not be charged until the item ships.
First prize winner, Anesthesia Book Category, British Medical Association 2012 Medical Book Competition
Lavishly illustrated by clear line diagrams and photographs, Ward's Anaesthetic Equipment is a highly accessible single source to aid understanding of the key principles behind equipment function and design. This sixth edition of the classic reference text on anaesthetic equipment is again extensively revised to reflect the very latest advances.
Ward's is an invaluable resource for qualified anaesthetists, as well as essential reading for those in training or approaching examinations such as those of the Primary and Final Fellowship in the UK and Ireland. Trainees in Intensive Care Medicine, anaesthetic assistants, operating department practitioners, electronic and biomedical engineers in hospitals and manufacturers' representatives will also benefit from this most trusted guide.
Provides a simple and comprehensive explanation of the function of anaesthetic equipment, ensuring its safe use in clinical practice
Covers the relevant syllabus required by the FRCA and similar exams taken by trainee anaesthetists
Clear line diagrams explain the working principles of each piece of equipment

The physics and technology of ultrasound gains a devoted chapter, as does patient warming. There are enhancements on depth of anaesthesia monitoring, error management and ultrasound imaging in regional anaesthesia. Particular coverage of supraglottic airway devices substantially augments an extended chapter on airway equipment. Updates throughout, including on the anaesthetic workstation, infusion devices and equipment for anaesthesia in difficult locations, ensure Ward's remains the most comprehensive and current text on anaesthetic equipment.

1 The supply of anaesthetic and other medical gasses

2 Measurement of pressure and gas flow

3 Vaporizers

4 The anaesthetic workstation

5 Breathing systems and their components

6 Airway management equipment

7 Equipment for the inhalation of oxygen and other gasses

8 Manual resuscitators

9 Automatic ventilators

10 Ventilation in the intensive care unit

11 Breathing filters, humidifiers and nebulizers

12 Equipment for paediatric anaesthesia

13 Equipment for regional anaesthesia

14 Physiological monitoring: principles and non-invasive monitoring

15 Physiological monitoring: gases

16 Monitoring of cardiovascular and coagulation systems

17 Depth of anaesthesia and neurophysiological monitoring

18 Atmospheric pollution

19 Infusion equipment and intravenous anaesthesia

20 Medical suction apparatus

21 Cleaning, disinfection and sterilization

22 Information technology and the anaesthetic workstation

23 Electrical hazards and their prevention

24 Surgical diathermy

25 Pacemakers and defibrillators

26 Lasers

27 Provision of anaesthesia in difficult situations and the developing world

28 The anaesthetist and the Medicines and Healthcare products Regulatory Agency

29 Error

30 Warming devices

31 Ultrasound

Appendix: SI units and conversion tables

Andrew Davey, LRCP & SI, FRCA, Consultant Anaesthetist, Royal Sussex County Hospital, Brighton, UK and Ali Diba, BM, FRCA, Consultant Anaesthetist, The Queen Victoria Hospital, East Grinstead, West Sussex, UK