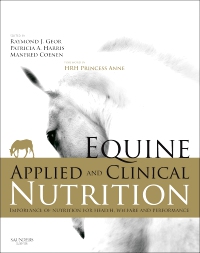 Publication Date:
04-01-2013
Equine Applied and Clinical Nutrition, 1st Edition
Hardcover
Publication Date:
04-01-2013
Free Shipping!
In Stock
This item has low stock levels and may be back-ordered. We'll let you know if it is back-ordered, and you will not be charged until the item ships.
Equine Applied and Clinical Nutrition is a landmark text that provides a comprehensive source of information on the nutrition and feeding management of horses. In this authoritative and accessible account, experts from around the world provide a global perspective while the editors tackle key controversial areas. Topics covered include the basic foundations of equine nutrition (digestive and metabolic physiology, nutrient functions and requirements), nutritional management by life stage or function, the assessment of feedstuffs and feeding programs, and clinical nutrition. Also included is discussion on feed hygiene and the role of manufacturers in feed quality and safety. The book contains abundant practical nutritional advice for the treatment of clinical conditions seen by veterinarians in their daily practice, together with the fundamental information needed to make recommendations for the nutritional management of healthy horses.
Equine Applied and Clinical Nutrition provides the most substantial overview currently available of the nutritional management of key equine clinical conditions. It further presents the up-to-date scientific background needed to underpin recommendations. It will be of core relevance to equine veterinarians and nutritionists, and a valuable resource for undergraduate and graduate students, as well as lay horsemen and women who wish to be better informed about their horses' nutritional needs.
Comprehensive coverage of key topics in equine nutrition, both from a scientific and applied perspective

Practical advice with clear take-home messages

Accessible text with many summary boxes, illustrations and graphics to emphasize important concepts and recommendations

Likely to become the standard reference for practical nutrition in the equine field

SECTION 1: CORE NUTRITION

Digestive physiology

Metabolic physiology

Feeding behaviour

Research techniques in equine nutrition

Energy

Amino acids and protein

Fats and fatty acids

Carbohydrates

Vitamins

Minerals

Water

SECTION 2: APPLIED NUTRITION AND FEEDING MANAGEMENT

A. General considerations

Feedstuffs for horses

Pastures and pasture management

Supplements and nutraceuticals (including ergogenics)

Ration evaluation and formulation (with discussion on feed manufacturing practices)

International feeding practices

B. Feeding through the lifestages

Broodmare and stallion

Growing animals

Mature horses

Old horses

Athletic horses (possibly several chapters under this heading - a basic core chapter, then a group of small chapters that deals with different disciplines e.g. racehorses, endurance, 3-day event)

C. Special considerations

Ponies, donkeys, miniature horses

Wild equids

Orphan foals

.

SECTION 3: CLINICAL NUTRITION

Clinical assessment of nutritional status

Muscle disorders

Laminitis

Obesity

Thin and starved horses

Endocrine diseases (equine metabolic syndrome; equine Cushing's disease)

Developmental orthopaedic disease

Osteoarthritis

Gastrointestinal diseases (gastric ulcers, colic, diarrhea)

Allergic and inflammatory airway diseases

Renal and hepatic

Skin diseases/atopy

Central nervous system diseases (e.g. equine motor neuron disease; grass sickness)

Behavioural abnormalities (stereotypies)

Assisted enteral and parenteral feeding

Feed-related toxicities

APPENDICES

Nutrient requirements

Nutrient composition of feeds

Reference ranges for blood metabolites, minerals and vitamins

Milk composition

Raymond J. Geor, BVSc, MVSc, PhD Diplomate, American College of Veterinary Internal Medicine (Large Animal) Diplomate, American College of Veterinary Nutrition (Honorary) Diplomate, American College of Veterinary Sports Medicine and Rehabilitation, Professor and Chairperson, Department of Large Animal Clinical Sciences, College of Veterinary Medicine, Michigan State University, East Lansing, MI, USA, Pat Harris, MA, PhD, Vet MB, MRCVS, Diplomate, European College of Veterinary Clinical Nutrition, Director of Science MARS Horsecare and Head of Equine Studies group WALTHAM Centre for Pet nutrition; Diplomate European college of Veterinary Clinical and Comparative Nutrition and Manfred Coenen, DrMed Vet, PhD, Diplomate, European College Veterinary Clinical Nutrition, Professor