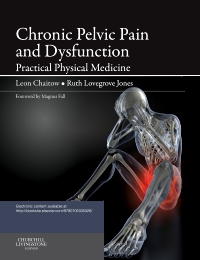 Imprint:
Churchill Livingstone
Chronic Pelvic Pain and Dysfunction
Paperback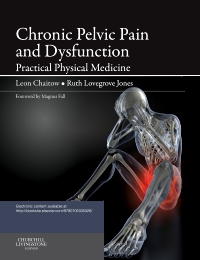 Imprint:
Churchill Livingstone
Free Shipping!
This item has low stock levels and may be back-ordered. We'll let you know if it is back-ordered, and you will not be charged until the item ships.
Edited by Leon Chaitow and Ruth Lovegrove, this clearly written and fully illustrated multi-contributor volume offers practical, comprehensive coverage of the subject area accompanied by a range of video clips. Covering all aspects of current diagnosis and management, this new book is suitable for physiotherapists, osteopathic physicians and osteopaths, medical pain specialists, urologists, urogynaecologists, chiropractors, manual therapists, acupuncturists, massage therapists and naturopaths worldwide.
"..a welcome addition to the library of any physiotherapist who encounters patients with pelvic pain." Reviewed by Anne Graham on behalf of Physiotherapy Practice and Research, October 2015
Offers practical, validated, and clinically relevant information to all practitioners and therapists working in the field

Edited by two acknowledged experts in the field of pelvic pain to complement each other's approach and understanding of the disorders involved

Carefully prepared by a global team of clinically active and research oriented contributors to provide helpful and clinically relevant information

Abundant use of pull-out boxes, line artwork, photographs and tables facilitates ease of understanding

Contains an abundance of clinical cases to ensure full understanding of the topics explored

Focuses on the need for an integrated approach to patient care

Includes an appendix based on recent European Guidelines regarding the nature of the condition(s) and of the multiple aetiological and therapeutic models associated with them

Contains a bonus DVD presenting film clips of the manual therapy, biofeedback and rehabilitation techniques involved

An Introduction to Chronic Pelvic Pain & Associated Symptoms

The Anatomy of Pelvic Pain

Chronic Pain Mechanisms

Psychophysiology and Pelvic Pain

Gender and Chronic Pelvic Pain

Musculoskeletal Causes and the Contribution of Sport to the Evolution of Chronic Lumbo-Pelvic Pain

The Role of Clinical Reasoning in the Differential Diagnosis and Management of Chronic Pelvic Pain

Multispeciality and Multidisciplinary Practice - a UK Pain Medicine Perspective

Multispeciality and Multidisciplinary Practice - a US Physical Medicine Perspective

Chronic Pelvic Pain and Nutrition

Breathing and Chronic Pelvic Pain: Connections and Rehabilitation Features

Biofeedback in the Diagnosis and Treatment of Chronic Essential Pelvic Pain Disorders

Soft Tissue Manipulation Approaches to Chronic Pelvic Pain (External)

Connective Tissue and the Pudendal Nerve in Chronic Pelvic Pain

Evaluation and Pelvic Floor Management of Urologic Chronic Pelvic Pain Syndromes

Practical Anatomy, Examination, Palpation and Manual Therapy Release Techniques for the Pelvic Floor

Patients with Pelvic Girdle Pain – An Osteopathic Perspective

Intramuscular Manual Therapy: Dry Needling

Electrotherapy and Hydrotherapy in Chronic Pelvic Pain

Leon Chaitow, ND, DO (UK), Registered Osteopath and Naturopath; Honorary Fellow and Former Senior Lecturer, School of Life Sciences, University of Westminster, London, UK; Fellow, British Naturopathic Association.; Fellow, College of Osteopaths, UK, Ruth Dr Lovegrove Jones, PhD MCSP, Physiotherapist and Lecturer: External Lecturer at Southampton University, UK; Former Research Specialist at Stanford University California, USA and Sasha Chaitow