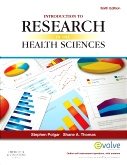 Imprint:
Churchill Livingstone
Introduction to Research in the Health Sciences
,6th Edition
Paperback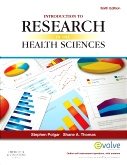 Imprint:
Churchill Livingstone
Free Shipping!
In Stock
This item has low stock levels and may be back-ordered. We'll let you know if it is back-ordered, and you will not be charged until the item ships.
This popular textbook provides a concise, but comprehensive, overview of health research as an integrated, problem-solving process. It bridges the gap between health research methods and evidence-based clinical practice, making it an essential tool for students embarking on research. Practitioners also benefit from guidance on interpreting the ever-expanding published research in clinical and scientific journals, to ensure their practice is up to date and evidence-based and to help patients understand information obtained online.
"This textbook would be of interest and value both to undergraduate and post-graduate students also." Reviewed by Dr. Richard Ellis on behalf of the New Zealand Journal of Physiotherapy, January 2015
"..excellent at giving an introduction and overview into research methods." Reviewed by Tobias Bremer on behalf of InTouch, July 2015
Uses simple language and demystifies research jargon
Covers both quantitative and qualitative research methodology, taking a very practical approach
Gives examples directly related to the health sciences
Each chapter contains a self-assessment test so that the reader can be sure they know all the important points
Provides an extensive glossary for better understanding of the language of research

Online interactive self-assessment tests:

Multiple choice questions
True or false questions
Short answer questions

Log on to evolve.elsevier.com/Polgar/research and register to access the above assets.

Polgar & Thomas: Introduction to Research in the Health Sciences 6E

Section 1: The scientific method.

1 - Methods and health research

Section 2: Research planning.

2 - Research planning.

3 - Sampling methods and external validity.

Section 3: Research designs.

4 - Experimental designs and intervention studies.

5 - Surveys and quasi-experimental designs.

6 - Single case (n=1) designs.

7- Qualitative research. Discussion, questions and answers.

Section 4: Data collection.

8 - Questionnaire design.

9 - Interview techniques and the analysis of interview data.

10 - Observation.

11 - Measurement. Discussion, questions and answers.

Section 5: Descriptive statistics.

12 - Organisation and presentation of data.

13 - Measures of central tendency and variability.

14 - Standard scores and normal curve.

15 - Correlation. Discussion, questions and answers.

Section 6: Inferential statistics.

16 - Probability and sampling distributions.

17 - Selection and use of statistical tests.

18 - The interpretation of research evidence. Discussion, questions and answers.

Section 7: Dissemination and critical evaluation of research.

19 - Qualitative data analysis.

20 - Presentation of health science research.

21 - Critical evaluation of published research.

22 - Syntheses of research evidence.

23 - Transitional research

24 – Safe and effective intervention criteria

Glossary.

References and further reading.

Answers to questions.

Appendices

Stephen Polgar, BSc(Hons), MSc, School of Public Health, Faculty of Health Sciences, La Trobe University, Melbourne, Australia and Shane A. Thomas, DipPubPol, PhD, MAPS, Professor and Director of Primary Care Research, Faculty of Medicine, Nursing and Health Sciences Monash University, Melbourne, Australia