Clinical Equine Oncology
,
Hardcover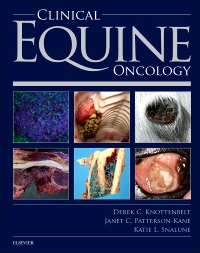 Free Shipping!
This item has low stock levels and may be back-ordered. We'll let you know if it is back-ordered, and you will not be charged until the item ships.
Diagnose common equine tumors accurately and find clinical information quickly! Clinical Equine Oncology describes the cellular basis of cancer and its etiopathogenesis, along with the principles of diagnosis, treatment, and management of cancer cases. This comprehensive resource offers more than just facts and diagrams — hundreds of detailed photographs make it easier to recognize and evaluate more than 50 types of tumors. It's useful to anyone working in the equine field, whether you're a veterinary surgeon, a practicing vet, equine dentist, or veterinary student. Written by a recognized expert on equine medicine, Derek Knottenbelt, this is the only book on the market that is completely dedicated to coverage of cancer in horses!
More than 50 different types of tumor are covered, including tumors that occur in each of the 10 body systems.
Over 800 excellent-quality photographs show the appearance of pathologies and cancerous conditions both before and after treatment.
More than 80 full-color diagrams summarize key information.
Detailed Pathology section describes common neoplasms in horses, cites research literature, and describes what is generally known about each condition.
Authoritative, inclusive, and unique coverage is likely to remain the standard reference for years to come.
Expert authors are recognized as the top experts in the field of equine oncology.
Practical, colorful design includes icon-based references for quick appraisal of prevalence and prognosis.

Preface
Glossary
Section 1: Basic Principles of Oncology
1. Introduction
2. The Challenges and Problems of Equine Oncological Practice
3. Tumour Nomenclature
4. Biology of Tumour Growth
5. Clinical Effects of Cancer in Horses
6. Paraneoplastic Syndromes
7. Principles of Diagnosis
8. Pathological Methods in Equine Oncology
9. Principles of Oncological Therapy
Section 2: Pathology
10. Introduction
11. Sarcoids
12. Squamous Cell Carcinoma
13. Melanocytic Neoplasms
14. Other Epithelial Neoplasms: Cutaneous, Mucocutaneous and Ocular Adnexal
15. Internal Surface-based Neoplasia: Mesothelioma
16. Mesenchymal Neoplasms: Fibrous and Adipose
17. Nerve Sheath Neoplasms
18. Smooth Muscle and Skeletal Muscle Neoplasms
19. Bone and Dental Region Neoplasms
20. Vascular Neoplasms
21. Haematopoietic (Round Cell) Neoplasms
22. Central and Peripheral Nervous System Neoplasms
23. Internal Ocular Neoplasms
24. Endocrine and Neuroendocrine Neoplasms
25. Gonadal Neoplasms
26. Stem or Progenitor Cell Neoplasms
Section 3: Practitioner's Guide to Equine Tumours
27. Approach to the Suspected or Confirmed Cancer Case
28. Tumours of the Alimentary Tract and Abdominal Cavity
29. Tumours of the Upper and Lower Respiratory Tract
30. Tumours of the Cardiovascular System
31. Tumours of the Skin
32. Tumours of the Endocrine and Neuroendocrine Systems
33. Tumours of Nerves and Nervous Tissues
34. Tumours of the Eye
35. Tumours of the Male and Female Reproductive Systems and Mammary Gland
36. Tumours of the Urinary Tract
37. Tumours of the Musculoskeletal System
Index

Derek C. Knottenbelt, OBE BVM&S DVM&S Dip ECEIM MRCVS, Professor in Equine Medicine
The Philip Leverhulme Equine Hospital
University of Liverpool, UK, Katie Snalune, BSc MA VetMB Cert EM (Int.Med.) Cert ES (Soft Tissue) MRCVS, Clinical Head of Hospital
Newnham Court Equine Clinic
Kent, UK and Janet Patterson Kane, BVSc PhD Dip ACVP MRCVS, Professor of Veterinary Pathology
Institute of Infection, Immunity and Inflammation
University of Glasgow, UK