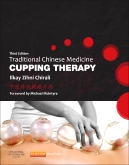 Imprint:
Churchill Livingstone
Traditional Chinese Medicine Cupping Therapy
,3rd Edition
Paperback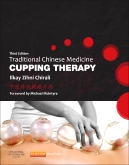 Imprint:
Churchill Livingstone
Free Shipping!
In Stock
This item has low stock levels and may be back-ordered. We'll let you know if it is back-ordered, and you will not be charged until the item ships.
This new edition continues to offer readers a comprehensive exploration and description of techniques of cupping in the context of Traditional Chinese Medicine theory. Extensively updated throughout, and with a new website containing videos and a downloadable image bank, this volume will be ideal for students and practitioners of Traditional Chinese Medicine, and all other complementary health practitioners looking to expand their skill base.
Explains cupping therapy clearly, allowing the practitioner immediate access to a set of skills for everyday application
Well illustrated to support the guidelines discussed in the text
Includes website containing video clips showing 11 methods of cupping therapy plus picture gallery of more than 150 colour photographs
Gives practical guidelines on the use of cupping in helping to treat more than 30 common conditions
Looks closely at issues of safety, expectation and theoretical principles of action

Text clarified and updated throughout, with an expanded artwork program and improved layout and design
New chapters by specialist contributors cover Cupping's Folk Heritage, Buddhist Medicine, and Thai Lanna Medicine
New chapter on Cosmetic Cupping Techniques
New section addressing Frequently Asked Questions
An expanded discussion about the benefits of cupping therapy, including the treatment of new pathological conditions including myofascial pain
Includes new evidence-based research on the effects of cupping therapy, including a systematic review

Chapter 1 Traditional Chinese Medicine Cupping Therapy

Chapter 2 Cupping's folk heritage, Bruce Bentley

Chapter 3.1 Cupping in Buddhist Medicine, Pedro Pavia

Chapter 3.2 Cupping in Thailand's Traditional Lanna Medicine, Kei Ngu

Chapter 4 Benefits of Cupping Therapy

Chapter 5 Preparing the patient for cupping treatment

Chapter 6 Complementary and Alternative Medicine (CAM) therapies

Chapter 7 The Cupping Procedure

Chapter 8 What to Expect During and After Cupping Therapy

Chapter 9 Twelve Methods of Cupping Therapy

Chapter 10 Cupping Therapy on Children and Adults

Chapter 11 Cosmetic Cupping Therapy

Chapter 12 Cupping Therapy in the Treatment of Common Disorders

Chapter 13 Treating Miscellaneous Disorders with Cupping Therapy

Chapter 14 Sports Injuries

Chapter 15 Myofascial Trigger Points Cupping Therapy

Chapter 16 Cupping Therapy Evidence-Based Research Ilkay Chirali,

Roz Gibbs, Mark Bovey, Hossam Metwally, Hujian Cao and team

Chapter 17 Part 1 Frequently Asked Questions (FAQ)/Part 2 Precautions and Contraindications

Ilkay Z. Chirali, MBAcC RCHM, Member of the Register of British Acupuncture Council, Member of the Register of Chinese Herbal Medicine; Private practitioner, Acupuncture and Stress Therapy Clinic, London; Lecturer, Cupping and Traditional Chinese Medicine