Essentials of Obstetrics and Gynaecology
, 2nd Edition
Paperback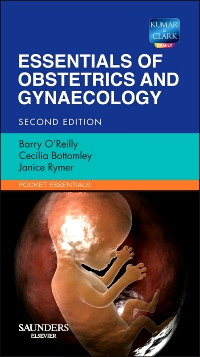 Free Shipping!
This item has low stock levels and may be back-ordered. We'll let you know if it is back-ordered, and you will not be charged until the item ships.
The perfect clinical companion; fully revised and updated for this new edition.
Concise
Evidence-based
Focussed on the core curriculum
Comprehensive coverage sign-posted by clear, consistent headings, from definition, aetiology, pathophysiology, history taking, general advice, clinical features, investigations, management, treatment, prognosis and assessment to risk factors and differential diagnoses.
Includes self-assessment, emergency procedures and normal values.
The perfect clinical companion; fully revised and updated for this new edition.

Concise
Evidence-based
Focussed on the core curriculum
Comprehensive coverage sign-posted by clear, consistent headings, from definition, aetiology, pathophysiology, history taking, general advice, clinical features, investigations, management, treatment, prognosis and assessment to risk factors and differential diagnoses.
Includes self-assessment, emergency procedures and normal values.

SECTION 1: HISTORY TAKING AND EXAMINATION IN OBSTETRICS AND GYNAECOLOGY

1. Gynaecology history taking.

2. Gynaecological examination.

3. Obstetric history taking.

4. Obstetric examination.

SECTION 2: GYNAECOLOGY

5. The menstrual cycle, menstrual disorders, infertility and the menopause.

6. Pelvic pain, endometriosis and minimal-access surgery.

7. Problems of the female genital tract.

8. Uterovaginal prolapse and urinary incontinence.

9. Family planning and sexual health.

10. Bleeding in early pregnancy.

SECTION 3: OBSTETRICS

11. Pre-pregnancy, counselling, prenatal diagnosis and antenatal care.

12. Physiology of pregnancy and pregnancy problems.

13. Multiple pregnancy, breech and abnormal presentations.

14. Labour.

15. The Puerperium.

16. Neonatal medicine.

SECTION 4: EMERGENCIES AND PRACTICAL PROCEDURES

17. Emergencies and procedures.

Appendices:

Final medical examination: Questions and answers

Definitions and normal values

Barry O'Reilly, MD, MRCOG, FRANZCOG, Consultant Obstetrician and Gynaecologist, Cork University Maternity Hospital, Cork, Ireland, Cecilia Bottomley, MA, MB, BChir, MRCOG, Specialist Registrar in Obstetrics and Gynaecology, Guy's and St Thomas' Hospital Trust, London, UK and Janice Rymer, MD, FRCOG, FRANZCOG, ILTM, Professor of Obstetrics and Gynaecology, Guy's, King's and St. Thomas' School of Medicine, London, UK