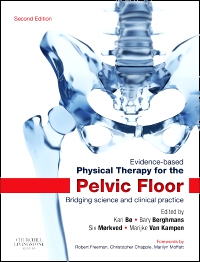 Imprint:
Churchill Livingstone
Evidence-Based Physical Therapy for the Pelvic Floor, 2nd Edition
Hardcover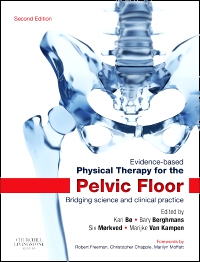 Imprint:
Churchill Livingstone
Free Shipping!
In Stock
This item has low stock levels and may be back-ordered. We'll let you know if it is back-ordered, and you will not be charged until the item ships.
Bridging the gap between evidence-based research and clinical practice, Physical Therapy for the Pelvic Floor has become an invaluable resource to practitioners treating patients with disorders of the pelvic floor. The second edition is now presented in a full colour, hardback format, encompassing the wealth of new research in this area which has emerged in recent years.
Kari Bø and her team focus on the evidence, from basic studies (theories or rationales for treatment) and RCTs (appraisal of effectiveness) to the implications of these for clinical practice, while also covering pelvic floor dysfunction in specific groups, including men, children, elite athletes, the elderly, pregnant women and those with neurological diseases. Crucially, recommendations on how to start, continue and progress treatment are also given with detailed treatment strategies around pelvic floor muscle training, biofeedback and electrical stimulation.
"..a comprehensive review of every aspect of this area including female, male and childhood issues, incontinence, prolapse, pain and sexual dysfunction." Reviewed by Beatrice McGinley on behalf of Physiotherapy Practice and Research, October 2015
aligns scientific research with clinical practice
detailed treatment strategies
innovative practice guidelines supported by a sound evidence base
colour illustrations of pelvic floor anatomy and related neuroanatomy/ neurophysiology
MRIs and ultrasounds showing normal and dysfunctional pelvic floor

incorporates vital new research and material
uses key summary boxes throughout new edition to highlight quick reference points
now in full colour throughout and a hardback format

1. OVERVIEW OF PHYSICAL THERAPY FOR PELVIC FLOOR DYSFUNCTION Kari Bø

2. CRITICAL APPRAISAL OF RANDOMIZED TRIALS AND SYSTEMATIC REVIEWS OF THE EFFECTS OF PHYSICAL THERAPY INTERVENTIONS FOR THE PELVIC FLOOR Rob Herbert

3. FUNCTIONAL ANATOMY OF THE FEMALE PELVIC FLOOR James A Ashton-Miller, John OL DeLancey

4. NEUROANATOMY AND NEUROPHYSIOLOGY OF PELVIC FLOOR MUSCLES David B Vodušek

5. MEASUREMENT OF PELVIC FLOOR MUSCLE FUNCTION AND STRENGTH, AND PELVIC ORGAN PROLAPSE

5.1 Introduction Kari Bø

5.2 Visual observation and palpation Kari Bø

5.3 Electromyography David B Vodušek

5.4 Vaginal squeeze pressure measurement Kari Bø

5.5 Pelvic floor dynamometry Chantale Dumoulin, Mélanie Morin

5.6 Urethral pressure measurements Mohammed Belal, Paul Abrams

5.7 Ultrasound in the assessment of PFM and pelvic organ descent Hans Peter Dietz

5.8 MRI of intact and injured female pelvic floor muscles John OL DeLancey, James A Ashton-Miller

6. PELVIC FLOOR AND EXERCISE SCIENCE

6.1 Motor learning Kari Bø, Siv Mørkved

6.2 Strength training Kari Bø, Arve Aschehoug

7. FEMALE PELVIC FLOOR DYSFUNCTIONS AND EVIDENCE-BASED PHYSICAL THERAPY

7.1 Female stress urinary incontinence Prevalence, causes and pathophysiology Jacques Corcos Lifestyle interventions Pauline Chiarelli Bladder training Jean F Wyman Pelvic floor muscle training for SUI Kari Bø Electrical stimulation for SUI Bary Berghmans

7.2 Female overactive bladder Pelvic floor muscle training for overactive bladder Kari Bø Electrical stimulation for overactive bladder Bary Berghmans

7.3 Urinary incontinence related to the peripartum period Siv Mørkved, Kari Bø

7.4 Pelvic organ prolapse Clinical assessment of pelvic organ prolapse Matthew D Barber Use of pessaries to prevent and treat pelvic organ prolapse Patricia Neumann Pelvic floor muscle training in prevention and treatment of pelvic organ prolapse Kari Bø, Helena Frawley

7.5 Female sexual dysfunction Assessment Alessandra Graziottin Treatment Alessandra Graziottin, Dania Gambini

8. MALE PELVIC FLOOR DYSFUNCTIONS AND EVIDENCE-BASED PHYSICAL THERAPY

8.1 Urinary incontinence and other lower urinary tract symptoms Marijke Van Kampen, Inge Geraerts

8.2 Male sexual dysfunction Grace Dorey

9. EVIDENCE-BASED PHYSICAL THERAPY FOR PELVIC FLOOR DYSFUNCTIONS AFFECTING BOTH WOMEN AND MEN

9.1 Anal incontinence Epidemiology, anatomy and pathophysiology, and risk factors Bary Berghmans, Esther Bols, Ylva Sahlin, Espen Berner Assessment of the nature and severity of AI Bary Berghmans, Esther Bols Conservative interventions for treatment of AI Bary Berghmans, Esther Bols

9.2 Pelvic floor pain and the overactive pelvic floor Helena Frawley

10. EVIDENCE FOR PELVIC FLOOR PHYSICAL THERAPY IN CHILDREN Wendy F Bower

11. PELVIC FLOOR PHYSICAL THERAPY IN THE ELDERLY: WHERE'S THE EVIDENCE? Adrian Wagg

12. EVIDENCE FOR PELVIC FLOOR PHYSICAL THERAPY FOR NEUROLOGICAL DISEASE Marijke Van Kampen, Inge Geraerts

13. PELVIC FLOOR DYSFUNCTION, PREVENTION AND TREATMENT IN ELITE ATHLETES Kari Bø

14. THE DEVELOPMENT OF CLINICAL PRACTICE GUIDELINES Bary Berghmans, Erik Hendricks, Nol Bernards, Rob de Bie

Kari Bo, Professor, PT, PhD, Exercise scientist, Norwegian School of Sports Sciences, Oslo, Norway, Bary Berghmans, PhD, MSc, RPt, Epidemiologist and Researcher, Maastricht University Pelvic Care Centre, Maastricht, The Netherlands, Siv Morkved, PT, MSc, PhD, Associate Professor and Senior Researcher, Department of Community Medicine & General Practice, Norwegian University of Science and Technology, Trondheim, Norway and Marijke Van Kampen, PhD, Professor in Rehabilitation Science, Katholieke Universiteit Leuven, Faculty of Kinesiology and Rehabilitation Science, University Hospital GHB, Leuven, Belgium