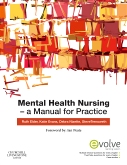 Imprint:
Churchill Livingstone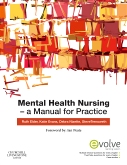 Imprint:
Churchill Livingstone
Free Shipping!
This item has low stock levels and may be back-ordered. We'll let you know if it is back-ordered, and you will not be charged until the item ships.
This exciting new book offers a contemporary manual for the mental health nurse within a mental health care system that is increasingly focused on recovery. Mental Health Nursing incorporates recent policy changes that place a greater emphasis on person-centred and social caring, whilst retaining a strong evidence base. The holistic, skills-based approach helps the student and the beginning practitioner to understand the complex causation of mental illness, its diagnosis, effective interventions and treatments, and the client's experience of mental illness.
Broad, yet in-depth, examination of the essential features of contemporary mental health nursing practice
A manual for practice - a skills-based approach provides clear guidance to novices on how to complete essential mental health nursing roles
'Critical Thinking Challenges' based on Case Histories provide a realistic context
'Nurse's Stories' explore the reality of mental health nursing care
On-line resources guide the reader to reflect upon the essential content and ideas contained within each chapter

PART 1: PREPARING FOR PSYCHIATRIC MENTAL HEALTH NURSING
1: The Effective Nurse
2: The Context of Practice
3: Historical Foundations
4: The UK and Euiropean Politico-legal Context
5: Professional and Ethical Issues
PART 2: MENTAL HEALTH AND WELLNESS
6: Mental Health in the UK and Europe
7: Physical Health and Assessment
8: Theories on Mental Health and Illness
9: Mental Health Across the Lifespan
10: Crisis and Loss
11: Assessment and Diagnosis
PART 3: UNDERSTANDING MENTAL ILLNESS
12: Intellectual Disabilities
13: Disorders of Childhood and Adolescence
14: Disorders of Old Age
15: Schizophrenic Disorders
16: Mood Disorders
17: Personality Disorders
18: Anxiety Disorders
19: Eating Disorders
20: Substance-related Disorders and Dual Diagnosis
21: Somatoform and Dissociative Disorders
PART 4: DEVELOPING SKILLS FOR MENTAL HEALTH NURSING
22: Settings for Mental Health Care
23: The Patient as Person
24: Therapeutic Interventions
25: Psychopharmacology

Ruth Elder, RN, BA(Hons), PhD, Lecturer, School of Nursing, Queensland University of Technology, Brisbane, QLD, Australia, Katie Evans, RPN, BA, MLitSt, PhD, FANZCMHN, Lecturer and Convenor of the Postgraduate Mental Health Program, School of Nursing, Griffith University, Brisbane, QLD, Australia, Debra Nizette, RN, Dip App Sc-Nr Ed, B App Sc-Nursing, MNSt, FACN, FACMHN, CMHN, Director of Nursing, Nursing and Midwifery Office, Queensland Health, QLD, Australia and Steve Trenoweth, BSc (Hons), MSc, PhD, PGDipEA, RMN, MBPsS, FHEA, PhD, MSc, PGDipEA, BSc (Hons), RMN, FHEA, MBPsS Senior Lecturer (Mental Health) College of Nursing, Midwifery and Healthcare