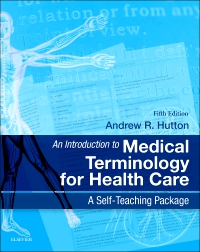 Imprint:
Churchill Livingstone
An Introduction to Medical Terminology for Health Care, 5th Edition
Paperback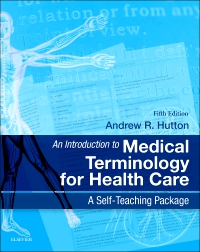 Imprint:
Churchill Livingstone
Free Shipping!
In Stock
This item has low stock levels and may be back-ordered. We'll let you know if it is back-ordered, and you will not be charged until the item ships.
A thorough knowledge of medical terminology is essential for all health care roles whether clinical or administrative in nature. The new edition of this attractive and easy to use self-directed learning manual provides a simple, interactive and comprehensive guide to the language of medicine.
A self-directed learning package that requires no previous knowledge of medical terminology

New design with icons to direct the reader and facilitate the learning process

Case Histories help put the words into a 'real life' context

Over 120 clear images enable students to associate medical terms with human anatomy and medical equipment

Self-assessment modules allow readers to test their knowledge of the meaning of word components and their association with a disease, anatomical feature or medical specialty

Simple, non-technical descriptions of pathological conditions, symptoms, laboratory tests, medical instruments and clinical procedures

Numerous fill-in word exercises to ensure fast and effective learning

Comprehensive abbreviation lists and a glossary

A valuable resource for readers taking the City and Guilds (AMSPAR) exams or CMA (AAMA) exams in medical terminology

Fresh design and updated artwork program gives added appeal to the volume

Each unit contains a list of common associated words often used in conjunction with specific medical terms in patient records and medical publications

More information on pathological conditions, laboratory tests and clinical procedures

Self-assessment exercises on medical specialties

Revised lists of common abbreviations associated with each speciality

Introduction

Unit 1 Levels of organization

Unit 2 The digestive system

Unit 3 The respiratory system

Unit 4 The cardiovascular system

Unit 5 The blood

Unit 6 The lymphatic system and immunology

Unit 7 The urinary system

Unit 8 The nervous system

Unit 9 The eye

Unit 10 The ear

Unit 11 The skin

Unit 12 The nose and mouth

Unit 13 The muscular system

Unit 14 The skeletal system

Unit 15 The male reproductive system

Unit 16 The female reproductive system

Unit 17 The endocrine system

Unit 18 Radiology

Unit 19 Oncology

Unit 20 Anatomical position

Unit 21 Pharmacology and microbiology

Unit 22 Final self-assessment tests

Answers to word exercises

Answers to self-assessment tests

Abbreviations

Glossary

Index

Andrew Hutton, BSc, MSc, Lecturer in Life Science, Edinburgh, UK