Cardiorespiratory Physiotherapy: Adults and Paediatrics, 5th Edition
Paperback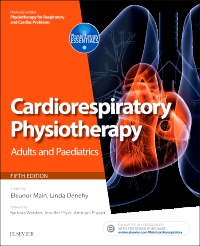 Free Shipping!
In Stock
This item has low stock levels and may be back-ordered. We'll let you know if it is back-ordered, and you will not be charged until the item ships.
The fifth edition of this seminal textbook continues to provide those who are studying or are in practice with comprehensive evidence-based coverage of all the main aspects of respiratory and cardiac physiotherapy throughout the whole lifespan – neonates, infants, children, adolescents and adults – with the patient at centre and advocating a problem-based approach.
For the new edition, Jennifer Pryor and Ammani Prasad hand the baton of editorship and their lasting legacy over to Eleanor Main and Linda Denehy. With a team of over 60 international expert authors, the new editors have incorporated major changes reflecting current cardiorespiratory physiotherapy education and practice. These changes are heralded by a new title – Cardiorespiratory Physiotherapy: Adults and Paediatrics (formerly Physiotherapy for Respiratory and Cardiac Problems: Adults and Paediatrics) – and a significant restructure of the content with a new set of chapters.
A new key chapter on anatomy and physiology of the respiratory system lays the foundation which is then followed by a chapter on clinical assessment of adults, infants and children, and acutely ill or deteriorating patients. Additional new content includes a chapter on outcome measurement in practice and a large chapter describing rehabilitation in acute and chronic conditions in special populations including spinal cord injury, oncology, trauma and paediatrics. The chapter on therapeutic interventions is comprehensive and reflective of evidence based practice.
Integrates evidence with clinical practice
Case studies used to facilitate problem solving
Boxes throughout highlighting key issues and points
Emphasizes the need for a holistic approach to patient care
Bank of 350 images on Evolve Resources. Log on to https://evolve.elsevier.com/Main/cardiorespiratory and register to access.

Newly appointed editors – Eleanor Main (UK) and Linda Denehy (Australia)
Content restructure and overhaul with contributions from over 60 world leading experts
Chapters on:

Anatomy and physiology of the respiratory system
Clinical assessment of the adult, infant/child and the acutely ill/deteriorating patient
Outcome measurement in practice
Therapeutic interventions
Managing special populations

Over 180 new figures including additional full-colour photographs

Foreword About The Editors Preface Acknowledgements Contributors

1 ANATOMY AND PHYSIOLOGY OF THE RESPIRATORY SYSTEM Mandy Jones, Alex Harvey, Eleanor Main

2 CLINICAL ASSESSMENT

Adults Amanda Thomas, Lyndal J Maxwell Infant and Child Eleanor Main The Acutely Ill or Deteriorating Patient Sarah Keilty

3 THORACIC IMAGING

Adults Conor D Collins, Susan J Copley Paediatrics Joy L Barber, Christopher D George

4 CARDIAC AND CARDIOVASCULAR DISEASES Andrew D Hirschhorn, Sean F Mungovan, David A B Richards

5 RESPIRATORY DISEASES Anne E Holland, Jennifer A Alison With a contribution from Alex Harvey and Mandy Jones

6 OUTCOME MEASUREMENT IN CARDIORESPIRATORY PHYSIOTHERAPY PRACTICE Selina M Parry, Linda Denehy With Contributions from Claire E Baldwin, Bronwen Connolly, Elizabeth H Skinner, Sally J Singh, Sarah Rand, Craig A Williams

7 PHYSIOTHERAPY INTERVENTIONS Eleanor Main With contributions from Sue Berney, Linda Denehy, Michelle Chatwin, Mark R Elkins, Daniel Flunt, Amanda J Piper, Annemarie L Lee, Bredge Mccarren, Harriet Shannon, Rosemary Moore, Sarah Rand, Barbara A Webber, Marie T Williams

8 OPTIMIZING ENGAGEMENT AND ADHERENCE WITH THERAPEUTIC INTERVENTIONS Mandy Bryon

9 ADULT INTENSIVE CARE Jennifer Paratz, George Ntoumenopoulos, Alice Y M Jones, Claire Fitzgerald

10 PAEDIATRIC INTENSIVE CARE

Paediatric Mechanical Support Stewart Reid, Mark J Peters Physiotherapy Management of Ventilated Infants and Children Eleanor Main, Alicia J Spittle

11 CARDIOTHORACIC SURGERY FOR ADULTS Doa El-Ansary, Julie C Reeve, Sulakshana, Balachandran, Michelle Mulligan, Linda Denehy

12 PHYSICAL ACTIVITY AND REHABILITATION

Physical Activity and Physical Fitness in Health and Disease Chris Burtin, Vasileios Andrianopoulos, Martijn A Spruit Pulmonary Rehabilitation Katy Mitchell, Fabio Pitta, Anne E Holland, Annemarie L Lee, Linda Denehy Cardiac Rehabilitation Julie Redfern, Jennifer Jones

13 CARDIORESPIRATORY MANAGEMENT OF SPECIAL POPULATIONS Linda Denehy, Eleanor Main With contributions from Sarah Smailes, Anita Plaza, Jennifer Paratz, Leanne Williams, Claire Bradley, Jacqueline L Luke, Jacqueline Ross, Brooke Wadsworth, Kate J Hayes, Prue E Munro, Paul Aurora, Helena Van Aswegen, Craig A Williams, Sarah Rand, Catherine L Granger, Sue Berney, Amy Nordon-Craft, Linda Denehy

APPENDIX – NORMAL VALUES, CONVERSION TABLE AND ABBREVIATIONS

Index

Eleanor Main, BSc, BA, MSc, PhD, FCSP, Professor of Physiotherapy & Director of UCL Postgraduate Physiotherapy Programme, UCL School of Life and Medical Sciences, University College London, London, UK and Linda Denehy, BAppSc(Phty) GradDipPhysio(Cardiothoracic Physiotherapy), PhD, Professor and Head, Department of Physiotherapy, Melbourne School of Health Sciences, Faculty of Medicine, Dentistry and Health Sciences, The University of Melbourne, Victoria, Australia