Chapman & Nakielny's Aids to Radiological Differential Diagnosis
, 6th Edition
Paperback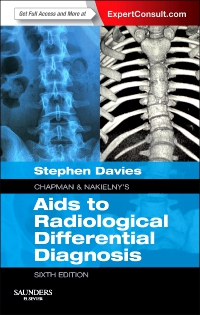 Free Shipping!
In Stock
This item has low stock levels and may be back-ordered. We'll let you know if it is back-ordered, and you will not be charged until the item ships.
"This is a useful, pocket-sized book that is quick to reference and well-priced" RAD Magazine, Sept 14
Chapman and Nakielny's Aids to Radiological Differential Diagnosis has become a classic resource for trainees and practitioners worldwide, to hone their knowledge of radiological differential diagnosis for the most commonly encountered conditions throughout the body. It is an invaluable quick-reference companion in everyday practice, as well as an essential study tool when preparing for the FRCR or similar examinations.
This new edition is thoroughly revised and updated in line with latest clinical practice, knowledge and guidelines. The first section presents lists of differential diagnoses, supplemented by notes on useful facts and discriminating factors. These assist with the systematic assessment of radiographs and images from other modalities. The second section offers detailed summaries of the characteristic radiological appearance of a wide range of clinical conditions.
New to this edition is complementary access to the complete, fully searchable eBook, making it even more practical to use than ever before, anytime, anywhere!
"Although very much thought of an examination primer this will be useful for reporting radiographers and radiologist alike. This is a useful, pocket-sized book that is quick to reference and well-priced." Reviewed by: Joanne Sil, Radiography admissions tutor, University of Salford, Manchester - RAD Magazine Date: Sept14
Lists of differential diagnoses.
Notes on radiological apperances.
Ideal for preparation for radiological examinations.

Now comes with full access to the complete eBook version via Expert Consult!
Contents revised and reduced to reflect current radiological practice.
Existing lists modernised to reflect modern imaging practice, particularly where technological advances have been made
Revised to take account of new imaging guidelines
Journal references updated.
Increased number of diagrams.

Part 1: 1 Bones. 2 Spine. 3 Joints. 4 Respiratory tract. 5Cardiovascular system. 6 Abdomen and gastrointestinal tract. 7 Gallbladder, liver, spleen and pancreas. 8 Adrenals, urinary tract and testes. 9 Soft tissues. 10 Breast disease and mammography. 11 Face and neck. 12 Skull and brain. 13 Gynaecology and obstetrics. 14 Paediatrics. 15 Evaluating statistics - explanations of terminology in general use.

Part 2: Alphabetical list of conditions.

Stephen G. Davies, MA, MB, BChir, MRCP, FRCR, Consultant Radiologist, Royal Glamorgan Hospital, South Wales, UK