Medical Pharmacology and Therapeutics
,4th Edition
Paperback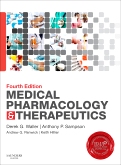 Free Shipping!
This item has low stock levels and may be back-ordered. We'll let you know if it is back-ordered, and you will not be charged until the item ships.
2014 BMA Medical Book Awards Highly Commended in Medicine category!
The fourth edition of Medical Pharmacology and Therapeutics provides a complete basis for learning about safe and effective prescribing of modern medicines. It offers all the pharmacology medical students will need - from basic science pharmacology and pathophysiology, through to clinical pharmacology and therapeutics, in line with today's integrated curricula. The disease-based approach and clear presentation of how drugs are used in clinical practice sets it apart from other texts and helps make it such an invaluable guide for all health professionals from the start of their course until after they have qualified.
This new edition has been extensively revised and updated throughout. Key features include:
■ Succinct explanations of the major pathogenic mechanisms of each disease and consequent clinical signs and symptoms
■ Comprehensive reviews of major drug classes relevant to each disease
■ A structured approach to the principles of disease management - outlining core principles of drug choice and planning a therapeutic regimen for common diseases
■ Quick-reference drug compendia, which illustrate key similarities and differences among drugs in each class
■ New sections on key and evolving topics, including headache and drug treatment in palliative care
■ Re-worked art programme to further clarify complex areas
■ Fully revised self-assessment questions and case-based exercises - to test understanding and aid revision
Integrates basic science pharmacology, clinical pharmacology and therapeutics
Brief review of pathophysiology of major diseases
Case histories and self-assessment questions (and answers)
Tabular presentation of all common drugs within each class
Section on further reading

Includes more on genetic issues
Drug tables made more concise to make information more accessible
Fully updated to reflect current clinical practice

General Principles. Principles of pharmacology and mechanisms of drug action. Pharmacokinetics. Drug discovery, safety and efficacy. The nervous system, neurotransmission and the peripheral nervous system.

Cardiovascular system. Ischaemic heart disease. Systemic and pulmonary hypertension. Heart failure. Cardiac arrhythmias. Cerebrovascular disease and dementia. Peripheral vascular disease. Haemostasis.

Respiratory system. Asthma and chronic obstructive pulmonary disease. Other respiratory problems.

Renal system. Diuretics. Disorders of micturition. Erectile dysfunction.

Nervous system. General anaesthetics. Local anaesthetics. Opioid analgesics. Anxiolytics, sedatives and hypnotics. Psychotic disorders. Depression, attention deficit hyperactivity disorder and narcolepsy. Epilepsy. Extrapyramidal movement disorders and spasticity. Other neurological disorers. Migraine.

Musculoskeletal system. Neuromuscular blockade. Myasthenia gravis. NSAIDs. Inflammatory arthritis. Hyperuricaemia and gout.

Gastrointestinal system. Nausea and vomiting. Dyspepsia and peptic ulcer disease. Inflammatory bowel disease. Constipation, diarrhoea and IBS. Obesity.

Immune system. The immune response and immunosuppressant drugs. Antihistamines and allergic disease.

Endocrine system and metabolic disease. Diabetes mellitus. Thyroid disease. Calcium metabolism. Pituitary and hypothalmic hormones. Corticosteroids. Female reproductive system. Androgens and anabolic steroids. Anaemia. Lipids.

Skin and eye disorders. Skin disorders. Eye disorders

Chemotherapy. Chemotherapy of infection. Chemotherapy of malignancy.

Drug toxicity and prescribing. Drug toxicity and overdose. Substance abuse and dependence. Prescribing, adherence and information for patients. Drug therapy in special situations.

Derek G. Waller, BSc, DM, MBBS, FRCP, Consultant Cardiovascular Physician, Southampton General Hospital; Senior Lecturer in Medicine and Clinical Pharmacology, University of Southampton, Southampton, UK and Tony Sampson, MA, PhD, FHEA, FBPharmacolS, Reader in Clinical Pharmacology, University of Southampton Faculty of Medicine, Southampton, UK