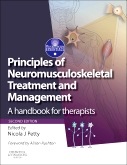 Imprint:
Churchill Livingstone
Principles of Neuromusculoskeletal Treatment and Management
,2nd Edition
Paperback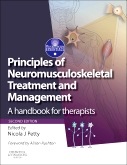 Imprint:
Churchill Livingstone
Free Shipping!
This item has low stock levels and may be back-ordered. We'll let you know if it is back-ordered, and you will not be charged until the item ships.
Fully updated and revised for a second edition, this textbook offers a comprehensive, evidence-based guide to the treatment and management of the neuromusculoskeletal system, providing vital support for both students and experienced therapists. As with the previous edition the text deals with function and dysfunction of joints, muscles and nerves offering treatment options in all cases. Underpinning theory and research is used extensively to explain the clinical use of each treatment option.
This new edition has benefited from the author – Nicola Petty – becoming editor and enabling leading clinicians and academics to contribute to the text which now offers a broader range of perspectives.
Provides critical knowledge and theory that underpins clinical practice and decision-making
Guides the reader through the various options available for patient management drawing a solid evidence base
Emphasizes the importance of hands on skill, as well as communication and clinical reasoning skills
Templated structure throughout creates an accessible tool for use in teaching and practice
Revised drawings in 2-colour provide the reader with enhanced visual learning tools

List of contributors Foreword Preface

1 Introduction Nicola J Petty

2 Function and dysfunction of joint Anne O'Connor, Karen McCreesh

3 Principles of joint treatment Karen McCreesh, Anne O'Connor

4 Function and dysfunction of muscle Laura Finucane

5 Principles of muscle treatment Laura Finucane

6 Function and dysfunction of nerve Kieran Barnard, Colette Ridehalgh

7 Principles of nerve treatment Colette Ridehalgh, Kieran Barnard

8 Principles of managing pain Chris Murphy

9 Principles of patient management Ann Moore

Index

Nicola J. Petty, DPT, MSc, GradDipPhys, FMACP, FHEA, Associate Professor, Centre for Health Research, School of Health Sciences, College of Life, Health and Physical Sciences, University of Brighton, Eastbourne, UK