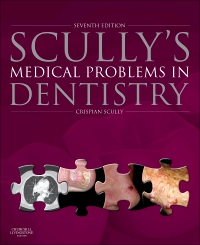 Imprint:
Churchill Livingstone
Scully's Medical Problems in Dentistry
, 7th Edition
Hardcover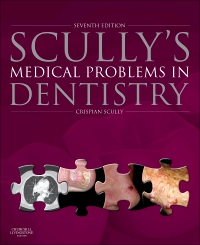 Imprint:
Churchill Livingstone
Free Shipping!
In Stock
This item has low stock levels and may be back-ordered. We'll let you know if it is back-ordered, and you will not be charged until the item ships.
This text offers an authoritative account of general medical and surgical conditions as they apply to the practice of dentistry and oral healthcare. Now established as the standard reference on the subject, Scully's Medical Problems in Dentistry is essential for students learning for the first time or practitioners needing to keep up-to-date with their knowledge.
"This remains an excellent comprehensive textbook bringing together relevant information into one place. It is a book to use for reference, rather than an; end-to-end read, but it continues to fulfil its function amply in the increasingly complex world of the medical-dental interface." Reviewed by Dr Mike Pemberton, Consultant in Oral Medicine, Dental Updatem, Sept 2014
"...an extremely valuable source of information that should be in the armamentarium of any dental professional..." Reviewed by European Journal of Orthodontics, Feb 2015
"... seems as close as could be to a completely comprehensive overview of common and uncommon medical problems and their dental relevance". Reviewed by Bex Stockton on behalf of BDJ Student, February 2015
Helps understanding of the relevant illness as identified from the patient's history, physical examination and investigations;
Shows readers how to present a succinct and, when appropriate, unified list of all problems that could influence oral health care and formulate a diagnosis/treatment plan for each problem;
Emphasises the need to appreciate issues of access and informed consent, preventive oral health care and the avoidance of harm;
Enables the reader to develop strategies to identify patients at risk of medical problems, to assess the severity of those risks and, where necessary, to recognize the need for referral;
Places emphasis on good communication between all health-care professionals, and between HCPs and patients;
Emphasises the need to take into account people's cultural needs and preferences as well as deal with patients who may have additional needs such as physical, sensory or learning disabilities;
User-friendly format allows ease of access to information whether for exam revision purposes or for a specific issue confronting staff in a busy clinical environment.

Includes an array of new disorders ranging from hypersensitivity syndrome to neuropathic pain;
Discusses recent updates in pharmacology and other aspects of medical intervention, including the use of biological therapies;
Explores new areas such as cosmetic and other implants, dental materials hypersensitivity, drugs and dietary interactions and new aspects of alternative medicine;
Other issues include elder maltreatment, care of vulnerable people, treatment of sexual minorities, new substance abuse and self-harm;
Explores the link between periodontal infection and various systemic diseases;
New national and international guidelines, selected recent references and up-to-date websites.

SECTION A: GENERAL

Medical emergencies
Medical history, examination, investigations and risk assessment
Perioperative care
Signs and symptoms

SECTION B: ORGAN SYSTEMS MEDICINE

Cardiovascular medicine
Endocrinology
Gastrointestinal and pancreatic disorders
Haematology
Hepatology
Mental health
Mucosal, oral and cutaneous disorders
Nephrology
Neurology
Otorhinolaryngology/Maxillofacial disorders
Respiratory medicine
Rheumatology and orthopaedics

SECTION C: OTHER SYSTEMS MEDICINE

Allergies
Autoimmune disease
Immunity, inflammatory disorders, and immunosuppressive and anti-inflammatory agents
Immunodeficiencies
Infections and infestations
Malignant disease
Metabolic disorders
Trauma, burns and abuse

SECTION D: OTHER HEALTH ISSUES

Age and gender issues
Complementary and alternative medicine
Dietary factors and health and disease
Impairment and disability
Materials and drugs
Minority groups
Occupational hazards
Reproductive (sexual) health
Sports, travel and leisure, and pets
Substance dependence
Transplantation and tissue regeneration

SECTION E: APPENDIX

Health promotion
Eponymous and acronymous diseases and signs

Crispian Scully, MD, PhD, Director: WHO Collaborating Centre for Oral Health-General Health; King James IV Professor Royal College of Surgeons (Edinburgh); Emeritus Professor: UCL (London) and Visiting Professor; Universities of Athens, Edinburgh, Helsinki, Hertfordshire, Middlesex and Plymouth