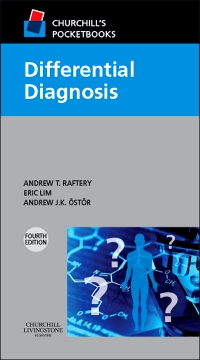 Imprint:
Churchill Livingstone
Churchill's Pocketbook of Differential Diagnosis, 4th Edition
Paperback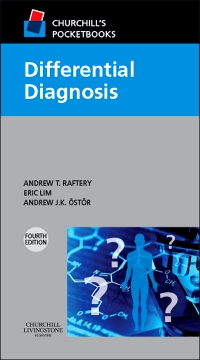 Imprint:
Churchill Livingstone
Free Shipping!
In Stock
This item has low stock levels and may be back-ordered. We'll let you know if it is back-ordered, and you will not be charged until the item ships.
Making a correct diagnosis is one of the key aspects of every medical student's and junior doctor's clinical training, and problem-based learning is now widely used to focus on the causes behind the presentation of a clinical feature. The Fourth Edition of this best-selling book is packed full of information to help the reader move from a presenting problem to an accurate diagnosis.
This Fourth Edition covers 127 common presenting problems in both medicine and surgery in a consistent format.

Each topic includes a list of all potential causes of the condition, colour coded to indicate common, occasional or rare causes. Important geographical variations are also highlighted.

Two sections cover the differential diagnosis of biochemical and haematological disorders which provide a ready check when reviewing abnormal results

The text includes a targeted guide to the relevant general and specific follow-up investigations which should be carried out as appropriate.

At the end of each topic a box highlights important learning points, or indicates symptom and signs suggestive of significant pathology which require urgent action.

Eighty colour photographs of key clinical presentations have been added to assist symptom recognition.

Two new chapters on Hypotension and Photophobia.

Abdominal pain

Abdominal swellings

Anaemia (low plasma haemoglobin)

Anorectal pain

Arm pain

Arm swellings

Ascites

Axillary swellings

Backache

Blood urea nitrogen

Breast lumps

Breast pain

Chest pain

Clotting abnormalities

Clubbing

Coma

Confusion

Constipation

Convulsions

Cough

Cyanosis

Deafness

Diarrhoea

Dizziness

Dysphagia

Dyspnoea

Ear disorders

Eye disorders

Facial pain

Facial swellings

Facial ulcers

Faecal incontinence

Finger lesions

Finger pain

Foot deformities

Foot pain

Foot ulcers

Gait abnormalities

Goitre

Groin swellings

Gum disorders

Gynaecomastia

Haematemesis

Haematuria

Haemoptysis

Halitosis

Hallucinations

Hand deformities

Headache

Hemiplegia

Hepatomegaly

Hiccups

Hirsutism

Hypercalcaemia (high calcium level)

Hyperglycaemia (high blood sugar level)

Hyperkalaemia (high potassium level)

Hypernatraemia (high sodium level)

Hypertension

Hypocalcaemia (low calcium level)

Hypoglycaemia (low blood sugar level)

Hypokalaemia (low potassium level)

Hypomagnesaemia (low magnesium level)

Hyponatraemia (low sodium level)

Hypotension

Impotence

Intestinal obstruction

Jaundice

Jaw pain and swellings

Joint disorders

Kidney swellings

Leg pain

Leg swellings

Leg ulcers

Leucocytosis (high white cell count)

Leucopaenia (low white cell count)

Lip lesions

Lymphadenopathy

Malaena

Metabolic acidosis

Metabolic alkalosis

Mouth ulcers

Muscle weakness and wasting

Nail abnormalities

Nasal discharge

Neck lumps

Neck pain

Nipple discharge

Oedema

Oliguria

Palpitations

Penile lesions

Photophobia

Polycythaemia (high plasma haemoglobin)

Polyuria

Popliteal swellings

Pruritus

Pruritus ani

Pyrexia of unknown origin

Rectal bleeding

Respiratory acidosis

Respiratory alkalosis

Scalp lesions

Scrotal pain

Scrotal swellings

Shock

Splenomegaly

Steatorrhea

Stridor

Sweating abnormalities

Syncope

Thirst

Throat conditions

Thrombocytopenia (low platelet count)

Thrombocytosis (high platelet count)

Tiredness

Toe lesions

Tongue disorders

Tremor

Urethral discharge

Urinary incontinence

Urinary retention

Vaginal discharge

Visual problems

Voice disorders

Vomiting

Weight gain

Weight loss

Andrew T. Raftery, BSc MBChB(Hons) MD FRCS(Eng) FRCS(Ed), Clinical Anatomist; Formerly Consultant Surgeon, Sheffield Kidney Institute, Sheffield Teaching Hospitals NHS Foundation Trust, Northern General Hospital, Sheffield; Member (formerly Chairman), Court of Examiners, Royal College of Surgeons of England; Formerly Member of Panel of Examiners, Intercollegiate Specialty Board in General Surgery; Formerly Member of Council, Royal College of Surgeons of England; Formerly Honorary Clinical Senior Lecturer in Surgery, University of Sheffield, UK, Eric Kian Saik Lim, MB ChB MD MSc FRCS(C-Th), Consultant Thoracic Surgeon, Royal Brompton Hospital, London; Senior Lecturer, National Heart and Lung Institute, Imperial College, London, UK and Andrew J K Ostor, MB BS FRACP, Consultant Rheumatologist and Associate Lecturer, Addenbrooke's Hospital; Director, Rheumatology Clinical Research Unit, School of Clinical Medicine, Addenbrooke's Hospital, University of Cambridge, Cambridge, UK