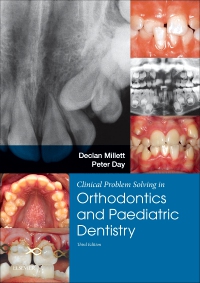 Imprint:
Churchill Livingstone
Clinical Problem Solving in Dentistry: Orthodontics and Paediatric Dentistry, 3rd Edition
Paperback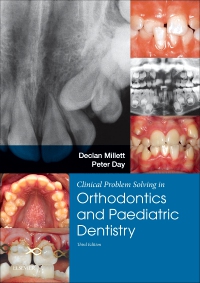 Imprint:
Churchill Livingstone
Free Shipping!
In Stock
This item has low stock levels and may be back-ordered. We'll let you know if it is back-ordered, and you will not be charged until the item ships.
This is a third edition of an easy to read resource in orthodontics and paediatric dentistry – ideal for undergraduate dental students and postgraduates preparing for the MJDF and similar exams.
Useful 'Clinical Case' format promotes a logical approach to problem solving through history taking, clinical examination and diagnosis

Contains approximately 350 photographs, 50 line artworks and 40 tables

Provides two different approaches to the Clinical Cases – some topics include scenarios with questions and answers; others include differential diagnosis with a focus on how to plan and manage treatment effectively

'Key-point' boxes systematically emphasise core knowledge, assessment and treatment approaches

Useful Mind Maps® provide a focused framework for learning and revision

Thoroughly updated text with over 140 new clinical images

New orthodontic sections covering classification and definitions, referral guide, implications of some medical problems, together with further information on CBCT and TADs, protraction facemask treatment, management of non-nutritive sucking habits, and retainer types and problems.

New authorship to paediatric dentistry section provides comprehensive text revision

New paediatric dentistry Clinical Cases address behavioural problems in the child and adolescent, the treatment of children with learning difficulties and physical disability, as well as providing coverage of common medical problems in children and assessment of dental trauma

Updated reading lists include Cochrane reviews

1 Median diastema and ectopic eruption of an upper first permanent molar

2 Unerupted upper central incisor

3 Absent upper lateral incisors

4 Crowding and buccal upper canines

5 Severe crowding

6 Palatal canines

7 More canine problems

8 Infraoccluded primary molars

9 Increased overjet

10 Incisor crossbite

11 Reverse overjet

12 Increased overbite

13 Anterior open bite

14 Posterior crossbite

15 Bilateral crossbite

16 Late lower incisor crowding

17 Prominent chin and TMJDS

18 Drifting incisors

19 Appliance-related problems

20 Tooth movement and related problems

21 Cleft lip and palate

22 Nursing and early childhood caries

23 High caries risk adolescents

24 Pain control and treatment planning for carious primary teeth

25 Facial swelling and dental abscess

26 The uncooperative child and adolescent

27 Children with disabilities and learning difficulties

28 Common medical problems in children

29 The displaced primary incisor

30 The fractured immature permanent incisor crown

31 The root fractured permanent incisor

32 The avulsed incisor

33 Disorders of eruption and exfoliation

34 Poor quality first permanent molars

35 Tooth discoloration, hypomineralization and hypoplasia

36 Mottled teeth

37 Multiple missing and abnormally shaped teeth

38 Amelogenesis imperfecta

39 Dentinogenesis imperfecta

40 Dental erosion

41 Gingival bleeding and enlargement

42 Oral ulceration

43 Mind Maps®

APPENDICES

A1 The index of orthodontic treatment need: dental health component

A2 Classification and definitions

A3 Orthodontic problems: referral guide

A4 Implications of some medical problems for orthodontics

A5 Lateral cephalometric analysis

A6 A structured dental trauma history form

Declan Millett, BDSc DDS FDSRCPS FDSRCS DOrthRCSEng MOrthRCSEng, Professor of Orthodontics, University Dental School and Hospital, University College Cork, Ireland and Peter Day, PhD, FDS Paeds RCS Eng, FRCD Canada, Associate Professor and Consultant in Paediatric Dentistry, Leeds Dental Institute, Leeds, UK