Anatomy and Physiology for Nurses - Elsevier eBook on VitalSource
,13th Edition
Elsevier eBook on VitalSource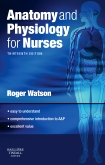 Imprint:
Bailliere Tindall
Or $0.00 with a valid access code
This title is now available under ISBN 9780702059803.
This is a new edition of a highly popular introductory text on anatomy and physiology for nurses and allied health students. Its clear writing style and competitive price make it accessible to a wide audience and its comprehensive coverage suits a variety of healthcare courses. The content is organised to reflect a systems approach.
clear diagrams aid understanding

learning objectives in each chapter help revision

review questions help test understanding

clinical links help students relate the content to practice

Revised and updated to reflect developments in the subject

Web links to clinical examples to help relate theory to practice

Preface

Section 1 The Characteristics of Living Matter 1

1. Introduction

2. The cellular level of organization

3. Tissues, organs, systems and homeostasis

Section 2 Control and Co-ordination

4. The nervous system

5. The ear

6. The eye

7. Endocrine glands

Section 3 Posture and Movement

8. Development and types of bone

9. Bones of the head and trunk

10. Bones of the limbs

11. Joints or articulations

12. Muscle

Section 4 Internal Transport

13. The blood

14. The heart and blood vessels

15. The circulation

16. The lymphatic system

17. The respiratory system

Section 5 Nutrition and Elimination

18. The digestive system

19. The liver, biliary system and pancreas

20. Nutrition

21. Digestion and metabolism

22. Fluid balance and the urinary system

Section 6 Protection and Reproduction

23. The skin

24. Non-specific resistance and the immune system

25. The reproductive system

Index

Roger Watson, BSc PhD RN FIBiol FHEA FRSA FEANS FRCP Edin FFNMRCSI FRCN FAAN, Professor of Nursing, Faculty of Health Sciences,The University of Hull, Hull, UK