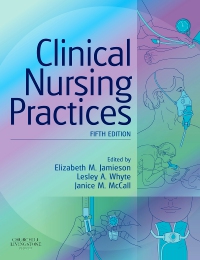 Imprint:
Churchill Livingstone
Clinical Nursing Practices - Elsevier eBook on VitalSource, 5th Edition
Elsevier eBook on VitalSource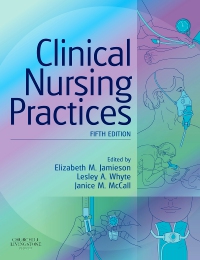 Imprint:
Churchill Livingstone
Or $0.00 with a valid access code
This title is directed primarily towards health care professionals outside of the United States. It is a well-known text that provides guidelines for over 40 common nursing procedures carried out by carers in a variety of settings. The development of competence in these practices is one of the most important aspects of pre-registration programmes, and this is one of the few UK-based texts that takes an educational approach to these practices as opposed to a purely procedure-driven approach. As in previous editions, the emphasis is on a holistic approach with the recognition that each patient is a unique individual. Each procedure contains rationale and information for patient education in addition to step by step guidance.
Skills explained step by step to facilitate learning
The comprehensive range of procedures including advanced practices will give readers confidence when they begin clinical work
Relevance to hospital and community settings makes it applicable to a wide audience
The rationale sections link to the evidence-base thereby ensuring best practice

1 Frameworks for Practice
2 Administration of medicines
3 Blood Glucose Monitoring
4 Blood Pressure
5 Blood Transfusion
6 Body Temperature
7 Bone Marrow Aspiration
8 Cardiopulmonary Resuscitation
9 Care of the Deceased Person
10 Catheterisation: Urinary
11 Central Venous Pressure
12 Chest Drainage: Underwater Seal
13 Eardrops: Instillation of
14 Ear Syringing
15 Enema
16 Exercises: Active and Passive
17 Eye Care
18 Gastric Aspiration
19 Infection Control
20 Intrapleural Aspiration
21 Intravenous Therapy
22 Isolation Nursing
23 Lumbar Puncture
24 Mouth Care
25 Moving and Handling
26 Nebuliser Therapy
27 Neurological Examination
28 Nutrition
29 Oxygen Therapy
30 Paracentesis: Abdominal
31 Personal hygiene
32 Preoperative Nursing Care
33 Postoperative Nursing Care
34 Pulse/ Radial Pulses
35 Rectal Examination
36 Respiration
37 Skin Care
38 Specimen Collection
39 Stoma Care
40 Suppositories
41 Toileting
42 Tracheostomy Care
43 Transfer of Patients Between Care Settings
44 Unconscious Patient
45 Urine Testing
46 Vaginal Examination
47 Vaginal Ring Pessary Insertion
48 Venepuncture
49 Wound Care
Index