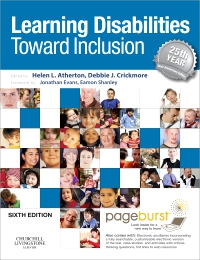 Imprint:
Churchill Livingstone
Learning Disabilities - Elsevier eBook on VitalSource, 6th Edition
Elsevier eBook on VitalSource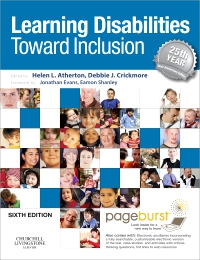 Imprint:
Churchill Livingstone
Or $0.00 with a valid access code
This title is now available under ISBN 9780702051876.
Learning Disabilities: Toward Inclusion (formerly edited by Bob Gates) is one of the leading textbooks in this field. It offers real ways to improve quality of experience for people with learning disabilities in all areas of life.
This new edition brings together a comprehensive and coherent collection of material from eminent authors with a wealth of professional backgrounds and roles. Its contemporary focus reflects practice developments including the impact of changing policy and legislation on the nature and configuration of services.
Printed book plus Pageburst™ access – you will receive a printed book and access to the complete book content electronically. Pageburst™ enhances learning by not only bringing world class content to your fingertips but also letting you add to it, annotate it, and categorize it all in a way that suits you. Pageburst™ frees you to spend more time learning and less time searching.
The leading textbook for carers of people with learning disabilities
A comprehensive overview of the field of learning disabilities care
Well-written accessible content
Activities, case studies, diagrams and further resources including useful web links

the embedding of key themes across chapters to draw diverse material into an integrated whole. These are: person-centredness, values, the reality of practice, the range of ability, the range of services and national and international perspectives.

chapters on advocacy, personal narratives and life story, inclusive research, risk, safeguarding, sensory awareness, epilepsy and end-of-life care

online case studies and activities with critical-thinking questions and 'hot links' to web resources to extend knowledge and understanding thereby facilitating learning

a fully searchable, customisable electronic version of the text to enable easy access and quick reference

Section 1: Living with learning disabilities

1 The social construction of learning disability

2 Causes of learning disability

3 Eugenics: the creation and maintenance of difference

4 Values-based support

5 Ethical issues

Section 2: Implementing values-based support

6 Let me speak – facilitating communication

7 Advocacy

8 Personal narrative and life story

9 Person-centred strategies for planning

10 Inclusive research: we are the artists of our lives

11 Positive risk taking

12 Safeguarding against abuse and harm

Section 3: Overcoming challenges to good health

13 Enabling good health

14 Physical health

15 Sensory awareness

16 Epilepsy

17 Mental health problems in people with learning disabilities

18 Challenging behaviour

19 Working with offenders

20 Autistic spectrum conditions

Section 4: Facilitating transition across the lifespan

21 Working with people to make choices

22 Working with families

23 Childhood

24 Leisure and friendships

25 Education for children and young people with learning disabilities

26 Employment

27 A place to live

28 Sexual and personal relationships

29 Growing older: meeting the needs of people with learning disabilities

30 End of Life

Helen Atherton, BSc(Hons), PhD, RNLD, Lecturer in Nursing, School of Healthcare, University of Leeds, Leeds, UK and Debbie Crickmore, BSc(Hons) MSc RNLD, Lecturer in Learning Disability, Faculty of Health and Social Care, University of Hull, Hull, UK