Advanced Techniques in Musculoskeletal Medicine & Physiotherapy
,
Hardcover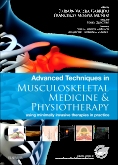 Free Shipping!
This item has low stock levels and may be back-ordered. We'll let you know if it is back-ordered, and you will not be charged until the item ships.
Advanced Techniques in Musculoskeletal Medicine & Physiotherapy is a brand new, highly illustrated guide to the diagnosis and treatment of musculoskeletal disorders. It demonstrates how to safely and effectively use selected minimally invasive therapies in practice. In addition to more well-established techniques such as acupuncture or dry needling, this ground-breaking resource also covers techniques including intratissue percutaneous electrolysis, mesotherapy, percutaneous needle tenotomy, and high volume image guided injections. Other featured chapters include those on specific musculoskeletal ultrasound such as sonoanatomy and ultrasound-guided procedures.
Each chapter describes the principles, indications and contraindications, mechanisms of action and detailed outlines of techniques with an emphasis throughout on accessible practical information. Additionally, methodologies, research results and summaries of studies for particular minimally invasive therapies are presented. The book is also supported by a companion website – www.advancedtechniquesonline.com – containing procedural video clips, a full colour image library and interactive multiple choice questions (MCQs).
skills-based and clinically-oriented – reinforced by the latest contemporary scientific medical research
chapters on outcomes in clinical practice
indications and contraindications discussed
clinical cases, key terms and key points boxes used throughout
companion website – www.advancedtechniquesonline.com – containing procedural video clips, full colour image bank and interactive MCQs

VIDEO LIST ACKNOWLEDGEMENTS FOREWORD TO THE SPANISH EDITION, FISIOTERAPIA INVASIVA FOREWORD PREFACE CONTRIBUTORS

PART I: INVASIVE TECHNIQUES IN PHYSIOTHERAPY AND MUSCULOSKELETAL MEDICINE INVASIVE TECHNIQUES IN PHYSIOTHERAPY - GENERAL CONCEPTS Fermín Valera Garrido, Francisco Minaya Muñoz 2 NEEDLING TECHNIQUES AND MODALITIES Fermín Valera Garrido, Francisco Minaya Muñoz

PART II: CADAVER-BASED APPROACHES IN PHYSIOTHERAPY 3 CADAVER-BASED APPROACHES IN PHYSIOTHERAPY Francisco J. Valderrama Canales, Francisco Minaya Muñoz, Fermín Valera Garrido

PART III: MUSCULOSKELETAL ULTRASOUND 4 MUSCULOSKELETAL ULTRASOUND IN PHYSIOTHERAPY Francisco Minaya Muñoz, Fermín Valera Garrido, Adrián Benito Domingo 5 SONOANATOMY OF THE MUSCULOSKELETAL SYSTEM Jacinto J. Martínez Payá, Ana de Groot Ferrando, José Ríos Díaz, Ma Elena del Baño Aledo 6 ULTRASOUND APPLICATIONS TO VISUALIZE AND CHARACTERIZE MYOFASCIAL TRIGGER POINTS AND SURROUNDING SOFT TISSUE Jay P. Shah, Juliana Heimur 7 INVASIVE ULTRASOUND-GUIDED TECHNIQUES IN PHYSIOTHERAPY Fermín Valera Garrido, Francisco Minaya Muñoz

PART IV: DRY NEEDLING 8 DRY NEEDLING OF MYOFASCIAL TRIGGER POINTS Orlando Mayoral del Moral, Isabel Salvat Salvat 9 DRY NEEDLING FOR HYPERTONIA AND SPASTICITY (DNHS®) Pablo Herrero Gallego, Sandra Calvo Carrión, María Ortiz Lucas 10 ACUPUNCTURE AND NEEDLING TECHNIQUES FOR SEGMENTAL DYSFUNCTION IN NEUROMUSCULOSKELETAL PAIN Jay P. Shah, Nikki Thaker

PART V: PERCUTANEOUS NEEDLE TENOTOMY (PNT) 11 PERCUTANEOUS NEEDLE TENOTOMY Todd P. Stitik, Andrew Chang, Milin Vora, John Georgy, Shounuck I. Patel

PART VI: PERCUTANEOUS NEEDLE ELECTROLYSIS (PNE) 12 MOLECULAR MECHANISMS OF INTRATISSUE PERCUTANEOUS ELECTROLYSIS (EPI® TECHNIQUE) José Manuel Sánchez Ibáñez, Fermín Valera Garrido, Francisco Minaya Muñoz, Soralla Vallés Martí, José María Estrela Arigüel, Sergio García Herreros, Patricio Paredes Bruneta, Diana Marcela Aguirre Rueda, Pilar García Palencia, Francisco Valderrama Canales, Ferrán Abat González, Fernando Polidori 13 INTRATISSUE PERCUTANEOUS ELECTROLYSIS (EPI® TECHNIQUE) IN TENDON INJURIES Fermín Valera Garrido, José Manuel Sánchez Ibáñez, Francisco Minaya Muñoz, Fernando Polidori, Ferrán Abat González 14 INTRATISSUE PERCUTANEOUS ELECTROLYSIS (EPI® TECHNIQUE) IN MUSCLE INJURIES José Manuel Sánchez Ibáñez, Fernando Polidori, Ferrán Abat González, Francisco Minaya Muñoz, Fermín Valera Garrido

PART VII: ACUPUNCTURE 15 CLINICAL ACUPUNCTURE Antonio García Godino, Roberto Sebastián Ojero, Francisco Minaya Muñoz 16 ELECTROACUPUNCTURE Antonio García Godino, Roberto Sebastián Ojero, Francisco Minaya Muñoz

PART VIII: MESOTHERAPY 17 MESOTHERAPY IN THE MUSCULOSKELETAL SYSTEM Juan Ruiz Alconero

PART IX: INJECTION THERAPY 18 INJECTION THERAPY FOR PHYSIOTHERAPISTS Stephanie Saunders

PART X: HIGH-VOLUME IMAGEGUIDED INJECTIONS 19 HIGH-VOLUME IMAGE-GUIDED INJECTIONS Henning Langberg, Peter Malliaras, Dylan Morrissey, Otto Chan, Morten Boesen, Anders Boesen

PART XI: OUTCOMES: EVIDENCE-BASED PHYSIOTHERAPY 20 OUTCOME MEASUREMENT IN CLINICAL PRACTICE Francesc Medina Mirapeix, Pilar Escolar Reina 21 MEDICAL IMAGE PROCESSING, ANALYSIS AND VISUALIZATION WITH MUSCULOSKELETAL ULTRASOUND José Ríos Díaz, Jacinto J. Martínez Payá, Ana de Groot Ferrando, Ma Elena del Baño Aledo 22 RESOLUTION OF CLINICAL CASES

GLOSSARY INDEX COMPANION WEBSITE: www.advancedtechniquesonline.com

video bank
colour image bank
MCQs.

Fermín Valera Garrido, PT MSc PhD, Co-director MVClinic; FREMAP Hospital, Department of Physical Therapy, Madrid, Spain
Programme Director and Professor Master's degree in Invasive Physiotherapy Techniques, Department of Physiotherapy, Faculty of Medicine, San Pablo CEU
University, Madrid, Spain
Editor, Journal of Invasive Techniques in Physical Therapy and Francisco Minaya Muñoz, PT MSc PhD, Co-director MVClinic; FREMAP Hospital, Department of Physical Therapy, Madrid, Spain
Programme Coordinator and Professor Master's degree in Invasive Physiotherapy Techniques, Department of Physiotherapy, Faculty of Medicine, San Pablo CEU
University, Madrid, Spain
Associate Editor, Journal of Invasive Techniques in Physical Therapy